by Kyana #Mojica
From "reformed homophobe" to Program Coordinator of the LGBTQ Center at #Kent State, Roxie #Patton is the go-to person to get involved with everything queer on campus. Fusion sat down with the feisty Patton to pick her brain about her job.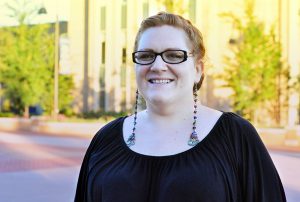 How did you first get involved with the LGBTQ Center on campus?
I was actually at Wright State University finishing my masters degree in student affairs. While I was there I was helping them develop their LGBTQ center, so I knew that was the kind of work I wanted to do. It was the kind of job I was looking for, and Kent was the first place I applied. I loved the idea of coming here and starting a LGBTQ center from scratch.
What are your future goals for the center?
I have a lot of ambition when it comes to where I think the center will be down the line. We've talked a lot about developing our own space. Right now, we're still in "borrowed space," but within two years I've been told we'll have our own designated space, which includes a lounge area and additional staff. We would also be able to have activities within the larger space. I really want a place where students don't feel like they're coming into the office but instead coming into their homes. I would love for the center to become the hub for all LGBTQ activity on campus that connects to all the different branches, like Fusion, PRIDE! and the LGBT studies minor. We're just really making sure we're connecting the queer community on campus.
What do you provide for students who visit the center?
It really depends on why the student comes in. I do a multitude of things. Most importantly, I do crisis intervention. For example, when a student comes in and they've been kicked out of their house after coming out to their family I can connect them with food, emergency housing, sometimes additional funding so they can stay in school, counseling and medical care. I also can connect students to departments in case they have a problem, such as faculty not referring to them as their preferred name. I provide safe sex supplies (condoms, lubricants, dental dams, female condoms), sex education, full service libraries where students can get books and films. And sometimes I'm just here to talk to students.
What future events are you planning with the center?
We have so much going on this year! We have our big series of Queer Community Dinners. Those are going on every month throughout the year. They're at the Carriage House, which is also home to the Women's Center, every last Tuesday of the month. It's a potluck dinner and there's a topic at each of the dinners. After the discussion we have game nights. We also have our Queering History series, which is correlated with the different heritage months. It helps people understand the diversity that exists within the LGBTQ community. Our big thing is LGBTQ history month, during which we're having for the first time ever Trans* Pride week. We have events every night for that and we have so many things going on in October alone that we're releasing a calender of events.
You work and support the ally training here at Kent State. How do you think this helps people better understand the GSM community?
Our ally training is called SafeSpace Training. I think we've had a lot of success with the program in that the point is not just to give people information. What we really do with the program is give you the basics, starting with vocabulary, we use the Genderbread person.We give them the ground rules on how everything functions within a queer individual. We have a student panel that comes in, talk about their experiences, coming out stories, and then they answer questions. I think that's the most valuable thing for faculty staff because hearing a story straight from the student has a great impact. We finish up with action planning so people can know how to handle situations either with a student or colleague, making sure that the language is correct, making sure you know all the resources on campus to help someone.
Has there been any collaboration with PRIDE! since last year's Coming Out Day?
Last year we collaborated with PRIDE!, and I'm really hoping to do that again. I'm making sure all the PRIDE! Programs end up on the LGBTQ History month calender. And this is still in the works but Wolfgang Davidson, director of activism for PRIDE!, has talked to me about showing a documentary on asexuality, so we're hoping to be able to do that.
When did you really become passionate about the GSM community?
I was raised to believe that being gay was wrong. After I graduated high school, my best friend came out to me. What happened [next] is what started to shift my way of thinking. The church he attended since he was a kid kicked him out, and his community revolted against him. I remember being shocked that these people had made his life miserable when he didn't do anything to hurt them. One day he said to me, "People think I made a choice but I've known I was gay since I was a little kid. I cried myself to sleep every since I was 10, praying to God to take it away from me and heal me. And it doesn't go away." That was the first time I realized that it wasn't a choice. From that moment on I got involved with gay-straight alliances on campus and protests for gay marriage. I organized a big Prop 8 rally in Columbus.
How do you feel smaller sexual orientations are represented in the community? Do you think more light needs to be shed on asexuals, demisexuals, etc?
I do. I considered myself an ally for years until I went to a MBLGTACC (Midwest Bisexual Lesbian Gay Transgender Ally College Conference) session called "Asexual: it's not a cake." I didn't consider myself asexual or demisexual, but when they were talking about things I knew this was me. I was shocked by how much relief it bought me. A lot of people said that it was just a label [but] it is an orientation and it's not something someone chooses to be. I think that we can respect every aspect of our sexuality and we can truly understand each other better.
What do you think the biggest issue the GSM community faces today is?
That's a tough question but I can tell you what I think isn't the biggest issue: marriage. I think we get distracted in heteronormativity and we think this is the most important thing, but it's not. Trans* people are facing so much discrimination. Trans* people of color are being murdered at an alarming rate. The coverage on stories regarding Trans* people is horrendous and offensive. The general GSM community has deeply failed trans* people in the sense that we have taken steps forward and have left trans* people behind. You can see what's in store for the LGBTQ Center this semester by visiting its Facebook page.