This weeks bar review takes Kelli and Kristen to #Laziza in #Kent, Ohio.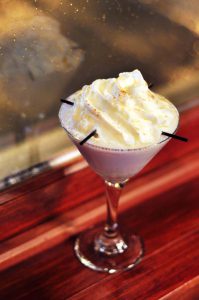 Kelli's review
Peach cobbler cocktail
Ciroc peach, peach shnapps, rum chata, half & half, cinnamon, whipped cream
With a name like peach cobbler, I didn't expect this drink to be overwhelmingly strong. Yet, served in a martini glass with a mountain of whipped cream on top, it was. But by mixing in that dollop of cream, I upped the sweetness and balanced the harsh taste. It would've done well with an extra bit of half & half to start. Pairing it with a plate of pita and hummus (and hot sauce!) made for an odd but satisfying evening snack.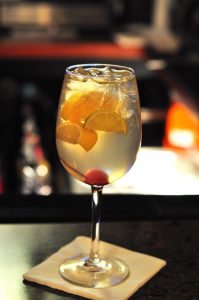 Kristen's review
White sangria
Lemon, and lime slices with a cherry mixed with white wine and vodka
If you follow Laziza on Instagram, you are probably well acquainted with their $5 drinks of the day. Every day, a divine-looking concoction is uploaded and liked by Instagram followers in the Kent community. Laziza's bartender is creative and fun: After I gave him just a few flavor ideas, he spun around and began mixing ingredients.
I can freely admit that I am a huge baby when it comes to booze. I like it light, sweet and strong. Initially, I was worried about the liberal amount of vodka going into my glass, but once I saw the fruit and white wine mixed in I relaxed. It was the perfect drink to sip and get mildly tipsy on. It's a good thing they're strong and tasty because when my check came for $15.00 (one drink plus hummus) my wallet felt the hit more than my head.