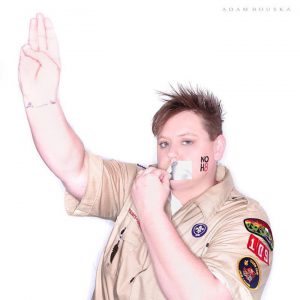 In April of 2012 I was forced to resign as my son's Boy Scout Den Leader because I am gay. In response, I launched a change.org petition with the help of #GLAAD and held a local rally in Bridgeport, OH in front of the church where we held our den meetings. This small town act of rebellion reignited a movement and created a firestorm of #equality that has spread furiously across the nation, ultimately ending up with a historic decision in May 2013, by The #Boy Scouts of America to allow gay youths to participate openly and honestly.
In August of 2011 my son, Cruz, came home from first grade with a flyer about joining cub scouts. He was pumped! Me, not so much. We knew about the Boy Scouts policy and was not keen on joining an organization that didn't accept our family. But, for those of you with little ones, you know how quickly his excitement and big blue eyes changed our minds.
I agreed to take Cruz to the sign ups. I thought for sure when I told the Cub Master I was gay, he would immediately reject us and send us away. Well, it was just the opposite scenario. I was assured that I would have absolutely no problems on the local level. In fact, that same day the Cub Master received a call telling him the Tiger Scout Den Leader would not be able to lead that year.  The Cub Master and local council representative asked me personally to be the Den Leader, knowing full well I was gay. I attempted to refuse and once again Cruz swayed me with his enthusiasm and puppy dog eyes! I agreed.
So, as the time went by I got my Cubs involved in many community service projects, more so than are required by the handbook. We served lunch at a soup kitchen, conducted a food drive, did bell ringing for the Salvation Army, Park Conservation, and A Wildlife Conservation project at a State Park, among many others. During this process, something amazing happened. I witnessed Cruz becoming a different little boy. He excelled in scouting and loved every minute of it. His confidence soared, he became more independent, his grades in school improved. I LOVED SCOUTING! Scouting had brought  Cruz and I closer and was a excellent outlet for all of his little boy energy!  I had decided that scouting was a Godsend. It was a perfect fit.
In April 2012, our pack treasurer stepped down, citing time constraints. The Cub Master asked for my help. Being completely engrossed by scouting at this point, I agreed, again reluctantly. I Immediately began noticing that the finances were a mess. The records were disorganized and incomplete. Then I noticed things didn't add up. I asked a lot of questions.I set up a meeting with the council, charter organization, committee members, and parents to get this issue resolved. The day that meeting was scheduled, I received a phone call from the local council telling me that the "higher ups" got a phone call informing them that I was gay. I immediately had to sever any ties with the Boy Scouts of America.
DEVASTATION! I felt like someone punched me in the stomach! I had dedicated so much to this organization and they just tossed me aside, without regard to my outstanding performance record and love and admiration of my scouts and their parents. Isn't a scout supposed to be LOYAL? I hung up the phone with a hole in my heart and I cried for two days.
The worst part? Having to look my son in the eye and tell him that the Boy Scouts no longer think we are good enough. This is exactly why I was hesitant to join. My worst fear, confirmed. We immediately pulled Cruz out of scouting, refusing to let him remain a part of an organization that doesn't accept his family for exactly who we are.
After picking myself up and regaining control of my emotions, with the help of a friend, I organized a rally in our hometown, exactly one week after my ousting. A family member contacted GLAAD, unsure of where else to turn. GLAAD called back and walked me through some media talking points and encouraged me to start a change.org petition. We drafted a petition, which can be found at www.change.org/scouts, and launched it the day of the rally. The local news covered the rally and I honestly thought that was as far as it would go.
I was very excited when the petition hit 200 signatures, thinking that was a momentous achievement! I didn't even know 200 people!! So, I went to sleep that night feeling accomplished. When I woke up the next morning the petition had thousands of signatures and the phone began ringing off the hook! Ellen's staff even called! We did not make it onto the show, however. The next thing I know it's three weeks later and we are flying to Los Angeles to speak at the GLAAD Media Awards! I had never even been on a plane before that. I also hate public speaking. I remember thinking, and sometimes still do, "What the hell did I get myself into?".
My change.org petition continued to grow at an amazing rate and currently has almost 350,000 signatures. I have since launched other change.org petitions including one encouraging both AT&T and Ernst & Young's CEO's, who are also on the national BSA board, to publicly support inclusive scouting. I met with Zach Wahls at the GLAAD office in NY and as a result of our conversations, he launched Scouts For Equality. We teamed up with Inclusive Scouting Network, GLAAD, Change.org, Scouting For All, and scouts and allies all over the country and we set out to change this archaic policy.
After a year of tireless, around the clock work by all aforementioned, the Boy Scouts of America announced they would vote on whether or not to allow gay youths, but still not gay adults. Scouts For Equality set up the Equal Scouting Summit in Dallas, TX, just a half mile from the Gaylord Hotel where the Boy Scouts were holding their annual meeting and would decide this issue.  Being among all of the people that have been dedicated to changing this policy, for no reason other than we love scouting and a belief that there is room in scouting for everyone, was amazing. The positivity was infectious. The emotions were abundant. We held a press conference on Wednesday, the day before the vote. There were at least a dozen reporters and even more photographers. Thursday was a day of interviews, photos, and nervous anxiety while awaiting the decision. The tensions were high as the minutes ticked by. Some of us were positioned in front of cameras waiting to do live reactions as the results came in. Then, suddenly, the room erupted into a cheer! Then came the hugs, the tears, and the elation! The announcement came that the Boy Scouts would allow gay youths but still not adults. This was still a cause for celebration!  Now, gay youths could be free to be honest with their fellow scouts without fear of rejection. This is a great first step.
As we continue to celebrate this win, we must also address the work that still needs to be done. The reality of this decision is that dedicated, loving parents like me and Greg Bourke from Kentucky, are still not welcome in a leadership role. The Boy Scouts are still telling kids like Cruz that his parents are not good enough, that we are somehow unfit to be leaders. This is still a damaging message to our children. Policies like this cause irreparable damage to children's psyche and self esteem.  I cannot, with a clear conscious, allow my son to be exposed to that kind of messaging and discrimination. My work will continue until all families can enjoy the benefits of scouting. There is no place for discrimination in the shaping of our childrens character. I started a new petition at www.change.org/denmother  encouraging local councils to stand up and refuse to deny LGBT leaders. We have already witnessed what we can accomplish when we stand together. Join me in my journey www.glaad.org/scouts.
The most important thing to remember is that ONE VOICE can make a difference. We definitely cannot do this alone, but sometimes all it takes is one person's refusal to accept the way things are to ignite a spark that leads to a firestorm. GET INVOLVED! BECOME THAT ONE VOICE!
~Our lives begin to end the day we become silent about things that matter~ MLK
In April 2012, Jennifer Tyrrell was ousted as her son's scout leader as a result of the a Boy Scouts of America's policy banning LGBT scouts and LGBT scout leaders. Since being ousted, Jen has appeared in national and local media to speak out against the policy. She has inspired over 350,000 Americans to sign a petition calling on the BSA to end the policy at www.change.org/scouts. Jen continues to speak at events and strive for equality in scouting and all other aspects of life. Jen is also a guest blogger on www.pghlesbian.com and GLAAD Advocate. Jen lives in Ohio with her partner of 6 years and their 4 children. [Bio from the Huffington Post]