Today, whistleblower and former U.S. Army intelligence analyst Chelsea Manning was released from Fort Leavenworth, a men's military prison in Kansas. In one of his final acts in office, President Obama commuted her sentence from 35 years to time served.
Manning was taken into custody for leaking classified information in 2010. The leaks included accounts of abuse, torture, rape and murder by Iraqi military and law enforcement which were not investigated by the U.S., over 15,000 unrecorded deaths in the Iraq War and a U.S. airstrike in Afghanistan which killed two Reuters journalists.
In a 2014 opinion piece for the New York Times, Manning explained that she disclosed this information "out of a love for my country and a sense of duty to others." She stated that if the public had accurate accounts of government and military actions, public trust in elected officials would improve.
Manning came out as #transgender in 2013. Since then, the American Civil Liberties Union has advocated for her rights to medical care. Being incarcerated in a men's facility and prohibited from growing her hair placed Manning in a uniquely oppressive situation. She attempted #suicide last year, for which prison authorities punished her with solitary confinement, widely regarded by mental health experts as a form of torture.
This morning, Manning tweeted a photo of herself taking her "first steps of freedom."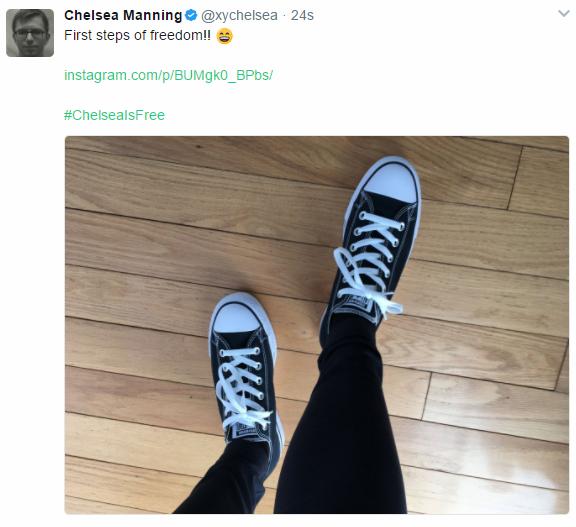 After President Obama granted her clemency, Manning's attorney and transgender rights advocate, Chase Strangio, organized a fundraiser to assist with her living expenses. The "welcome home" GoFundMe raised over $150,000 to help ease her transition back into society.
"For the first time, I can see a future for myself as Chelsea." Wrote Manning, in a statement following the clemency announcement. "I can imagine surviving and living as the person who I am and can finally be in the outside world. Freedom used to be something that I dreamed of but never allowed myself to fully imagine. Now, freedom is something that I will again experience with friends and loved ones after nearly seven years of bars and cement, of periods of solitary confinement, and of my health care and autonomy restricted, including through routinely forced haircuts. I am forever grateful to the people who kept me alive, President Obama, my legal team and countless supporters.
"I watched the world change from inside prison walls and through the letters that I have received from veterans, trans young people, parents, politicians and artists. My spirits were lifted in dark times, reading of their support, sharing in their triumphs, and helping them through challenges of their own. I hope to take the lessons that I have learned, the love that I have been given, and the hope that I have to work toward making life better for others."