Last night, President Trump signed on to his favorite #social media platform and published a tweet. Though many people find his tweets objectionable or untrue, most people can agree they are generally comprehensible. However, this tweet which reads, "Despite the constant negative press covfefe," left readers baffled.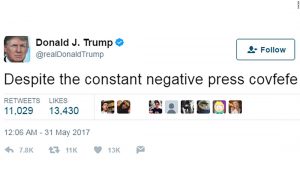 Presumably, Trump meant to type "coverage," though Twitter users had many other guesses, including the possibility that someone grabbed Trump's phone from his hands before he could finish the sentence and, darkly, that covfefe is a nuclear code.
"Coffee" was another popular suggestion. This morning, #Kent's Tree City Coffee shop made a Facebook post replacing "coffee" with "covfefe."

By 5 p.m., over 270 people had "liked" the post, earning it far more views and engagement than any of their other recent Facebook posts.
Charlotte Varney, Tree City Coffee's assistant general manager, explained that all the employees share access to the shop's Facebook account. She said the owner, Mike Beder, probably authored the post.
Beder said he follows many comedians on Twitter and began seeing tweets about 'covfefe' last night.
"The Tree City tweet was an easy fit." He said. "Our customers don't look to us for political commentary and we have no desire to be polarizing so that was taken into consideration before posting the tweet. However, I felt this was more of a 'current event' reaction and not a statement on the president one way or the other. It's challenging to continually provide content that keeps customers engaged, so I saw some low-hanging fruit and I grabbed at it. It was timely and good for a laugh to our followers so I'm happy they engaged with it."
While many businesses refrain from commenting on political issues, local coffee shops seem to have emerged as meeting spaces for grassroots political groups. Scribbles, another Kent coffee shop, allowed the local Indivisible group to place boxes in the shop, for people to send postcards to President Trump and Senator Rob Portman. Indivisible, Kent on Climate and Portage County Democratic Socialists of America hold meetings at Scribbles. Last year, Starbucks spoke out against North Carolina's anti-#LGBTQ law, HB2, and a Cleveland Starbucks shop attended MetroHealth's Transgender Jobs Fair in April.
The Trump administration has been criticized for its anti-LGBTQ positions, including cabinet members' financial ties to the conversion 'therapy' industry, rescinding an Obama administration guidance letter supporting transgender rights and claiming that states have the right to discriminate against LGBTQ students.
Note: MJ Eckhouse is involved with Indivisible and Portage County Democratic Socialists of America.
This post has been updated to include Mike Beder's remarks.