The world's biggest and sexiest #boy band, One Direction, has aroused America with their newest single, "Live While We're Young."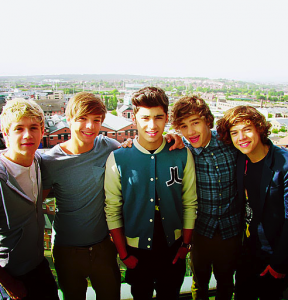 In case you haven't heard of One Direction, they are a boy band from the UK and Ireland made up of Liam Payne, Louis Tomlinson, Harry Styles, Zayn Malik and Niall Horan.
During the 2010 season of the #X-Factor each boy auditioned separately, but they failed to be chosen for the top boys sections. Not one to let talent go to waste, #Simon Cowell brought each one back just as "boot camp" was finishing up. The judges recognized the boys had chemistry and put them together as a group, completely altering the typical boy band. Their faces are plastered on every magazine cover, and their songs are heard on every radio station. One Direction has taken the world and turned it upside down.

With lyrics like those from their hit single "What Makes You Beautiful", on their debut album, they radiate classic, boy-band innocence.
"Live While We're Young" is a bit of a style change from their previous work. They've got more mainstream pop beats, more mainstream lyrics, and I'd say these European men are pretty blunt about what they want: a hookup. The very last line of the chorus is, "tonight let's get some, and live while we're young." You can't make it any more obvious than that.
During an interview for Showbiz 411, Harry Styles said "It's just about having fun. I think it represents us real well. It's just about, you know, enjoying yourself and having fun, not taking life too seriously."
You're not fooling anyone, Harry.
In all seriousness, though, the new song is catchy. They've done exactly what they've always said they were going to do by growing their music as they grew as people. To me, they're moving away from that typical boy band style. The Jonas Brothers wouldn't ever imply sex in their music, let alone mention it in a song. I'm really excited for the album to come out, and I'm pretty curious to find out if this "mature" trend carries through the entire album.
Take a listen to their newest hit here, if you haven't already: