At the end of several of #Kent State's residence service staff's emails you, can find a mission statement that reads, "We create safe and inclusive communities that foster student success." With a perfect score of five on this year's Campus Pride Index, it's clear that Kent State University has tried to make good on that mission.
But how did Kent State achieve this mark of excellence?
Through a number of changes and improvements, Kent State was able to bump up its score from a 4.5 last year and a 3.5 two years ago. The university also earned a perfect score in the subdivision "House and Residence Life" for its housing accommodations for transgender, genderqueer and non-binary students. 
This jump in score did not come easy. In fact, it required "massive amounts of work," says LGBTQ+ Student Center Director Ken Ditlevson.
"That was a crawl, it took us a long time to get there," he says. "But each year we continued to advocate for change across the university." 
Some changes the university implemented within the past few years include adding a preferred name option for students on applications, adding health insurance coverage for transgender individuals, requiring LGBTQ+ training for RAs and introducing a policy to add a universal restroom in any new building or current building that is getting major renovations.
Another accommodation for transgender, genderqueer and non-binary students is the 13 residence halls out of 25 that offer gender-inclusive housing. Students in these halls can chose to have a single room, shared room with a same-sex roommate, or shared room with an opposite-sex roommate. 
The process to get into gender-inclusive housing has been a work in progress since its introduction to Kent State's campus several years ago and since the introduction of the LGBTQ+ Living Learning Community (LLC) in 2016. 
Senior pre-medicine psychology major Avery McGirr was part of the first batch of students to live in the LLC in Korb Hall. They recalled the exciting yet somewhat troublesome application process.
"The process was kind of a pain, to be honest, because it was brand new at the time," McGirr says. "When I did the housing application there were a couple questions that asked if I wanted to be in the gender-inclusive housing, so I clicked yes."  
There was some confusion as to what that question even meant.
"A lot of people were confused about the program. A lot of people did not know what the question was. There was not a lot of explanation as to what it was," they say.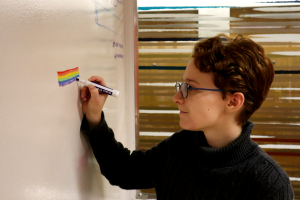 Since 2016, there have been several improvements made to the process. Last year a committee was created to refine the process.
"Over the past few years we have seen more and more students who are interested in it," says John Hummel, former hall director and assignments coordinator. "In the previous process there was something in our application that gave students directions to call someone on our assignments team or director of residence life."
Hummel and several others joined a committee to make the process easier for students interested. This past year, there was a form online where students could express their interest for gender-inclusive housing. Once a student expressed interest, the committee worked with students on a case-by-case basis. 
"This way they were able to share some information about themselves and it didn't feel as much like a cold call when we talked on the phone to determine what kind of housing arraignments were needed," he says.
These refinements to the process of getting into gender-inclusive housing, as well as the other accommodations Kent State has in place for members of LGBTQ+ community, have certainly made life easier for these students, but there are still issues that could be improved upon. 
One of those issues is the use of preferred pronouns. 
"Pronouns is a big one we are going to do a lot of advocacy for across the university to try to integrate that into the work that we do," Ditlevson says.
Currently there is no where in Kent's application process, or any paperwork, that asks a student for their preferred pronouns. A student would have to share that information or be asked by a faculty member to inform them of that information. Ditlevson is working for this to change in the future.
Another persisting problem is bathrooms. While there are universal bathrooms sprawled across campus, there is not a great abundance.
"I think there should be one universal restroom in every building, because there is not," McGirr says. "I would like to see one on every floor."