If you're a religious person, or just seek community, church services can be a great way to connect with people and practice your faith. However, some religious groups don't accept #LGBTQ people. So, if you're LGBTQ and religious, finding LGBTQ friendly churches can help.
On August 28, #Kent State's #LGBTQ Student Center hosted a welcome reception for new students. Many people spoke at the event, including several representatives from LGBTQ friendly churches in Kent.
LGBTQ Friendly Churches at the Reception
The list of participating LGBTQ friendly churches included:
The groups' speakers explained their churches' histories of supporting LGBTQ rights. They invited interested students to check out their services. Afterwards, they spoke with students and handed out information.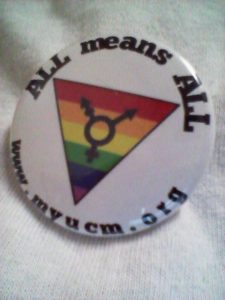 More Local LGBTQ Friendly Churches
Local Jewish and Muslim groups also welcome LGBTQ members. Kent State's Hillel and the Islamic Society of Akron and Kent have shown acceptance for the LGBTQ community.
Hillel states they are "dedicated to creating a pluralistic, welcoming and inclusive environment." Hillel's Jewish educator, Rabbi Lee Moore recently shared a Washington Post article about a trans-friendly Jewish summer camp. The camp has safe housing and gender neutral restrooms. It also works to make the Hebrew language more inclusive for non-binary campers.
Earlier this year, leaders from the Islamic Society of Akron and Kent attended a vigil for the victims of the Orlando shootings. Akron's First Congregational Church hosted the vigil. Several local LGBTQ groups also attended.
Of course, some people use religion as an excuse for their homophobia. Though their voices can be loud, they are not the only ones speaking. Even for non-religious people, it can be reassuring to know that there are LGBTQ friendly churches. And for religious LGBTQ people, it's great to have welcoming places to worship and find community. No one should have to choose between their faith and who they are or who they love.