Students passing through Risman Plaza and in front of Franklin Hall this week may have noticed a large chicken-wire fence covered with multicolored ribbons being wheeled around campus.
This fence, called the "fence of social justice," is the work of the School of Journalism and Mass Communication to promote its upcoming Poynter Media Ethics workshop on social justice.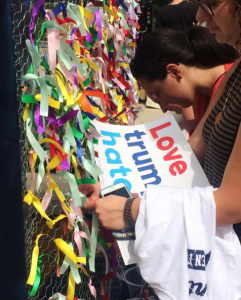 Students passing by the fence are encouraged to tie on a ribbon for each social justice movement that means something to them. Each color represents a different movement. They range from #LGBTQ rights, gender equality, race relations, health care, the economy, education and human trafficking.
"We want to give students a platform to voice their concerns about each of these issues," said Jan Leach, coordinator of the Poynter Media Ethics Workshop. "Social justice is a wide-ranging topic. Voicing concerns and allowing debate on each facet can only expand community understanding of what social justice really means."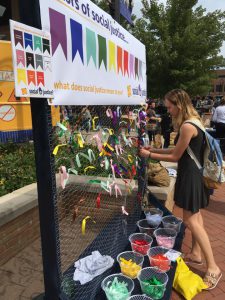 I was lucky enough to help volunteer with the social justice fence this past week, and I got to experience first-hand the fence's impact on passerby students. While some only put up one or two ribbons, some students put up colors for each movement, signaling that they felt that every social justice movement was equally as important as the rest.
No matter how many ribbons each student tied on, however, most felt pretty passionate about the movements they chose.
"I chose the equality of women and the LGBTQ community, because everyone can relate to being a human and it's unfair that women and the LGBTQ community are treated differently just because they are who they are," said Ericka Miller, a senior fashion merchandising major. "Women shouldn't have to prove their worth, and the LGBTQ community want to work and love without being questioned on why and who they are."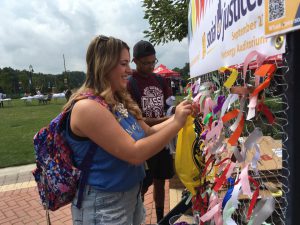 The social justice fence can be seen on campus again this week in promotion of the Poynter Media Ethics workshop, which was held on September 22 in the FirstEnergy Auditorium in Franklin Hall. For more information, go to mediaethics.jmc.kent.edu.