This #bar review takes Kelli and Kristen to #101 Bottles in #Kent.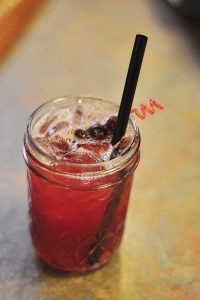 Kelli's review
Hooch Juice

4 out of 5 stars

          Blueberry moonshine, pomegranate juice, orange juice
Upon my first visit to 101 Bottles (refreshingly located in a non-congested plaza, away from downtown), I was first impressed by the vibe of the bar. It was equal parts relaxed and cozy with enjoyable music playing softly—as opposed to, say, Ray's constant roaring din. I was happy to settle down and order up. I would've reviewed many drinks if (1.) I wasn't driving and (2.) if the menu items weren't overpriced. For $5.50, I got a very small mason jar of Hooch Juice, paired with a swizzle stick of moonshine-soaked berries. The "juice" was sweet and satisfying, after I got over the initial shock of the strong moonshine. The tiny drink's pricing wasn't great, but it was definitely a decent concoction. Next time I'll order a more moderately priced cider.
Kristen's review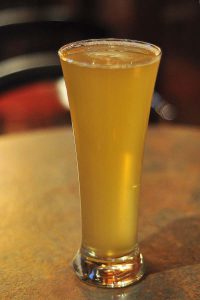 Griffith Honey Ale
5 out of 5 stars
As a strictly non-beer-drinking girl, I was leery going to a bar known for having '101 bottles of beer.' In truth, they probably had more than that, mostly local concoctions with some exotic choices too. Looking through the on-tap choices, I was on the hunt for anything light and non-beer-y. What drew me to the ale was the description, which highlighted it was brewed with local Ohio apples. What made me excited about the drink was the question mark next to the alcohol content. By the bottom of my drink I was feeling way tipsier than I expected from apple ale. The taste was light and crisp without a tartness that some ale has. It's a shame that its only available on tap, I would love to have a case of this for the holidays.