The Fall 2012 Fusion print issue hits stands Monday and will be available online shortly after! It features LGBT Superheroes, where Gay and Lesbian Superheroes Rule The Comic Book World as they shatter bones, weapons and heterosexism.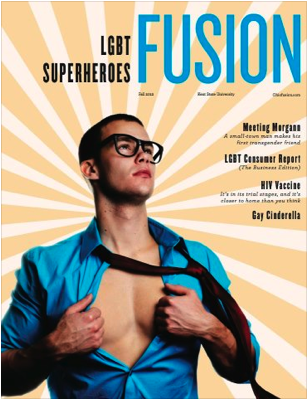 You'll read about a small-town man who makes his first Transgender friend in Meeting Morgan, and we'll catch you up on the good, the bad and the ugly of LGBT-friendly businesses in the Conscious Consumer.
Fusion gets the inside scoop of an HIV-vaccine trial happening close to home, where Cleveland Fights its Way Closer to a Cure, and you can't miss out on features like A is for Asexual and What Would Jesus Do?
Our beloved featured photo spread is Fusion's very own GAYBILL where Cinderella meets her Fairy Dragmother and Princess Charming, but her sassy step-brothers might stand in the way of true happiness!
Pick up your copy anytime on or after Monday, December 3rd, and don't forget to share the love by picking up one or two more issues for a couple friends!
A special thanks goes out to all those who were interviewed for each story and those who made the publication possible, including Hess Print Solutions and the School of Journalism and Mass Communication at Kent State University.
Please contact Editor-in-Chief Jackie Bergeron if you would like a copy mailed to your home address.