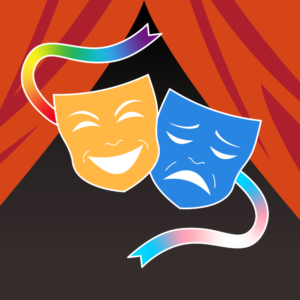 Kent State student-run organization All In(clusive) Theatre centers around themes of inclusivity and highlights the importance of proper LGBTQ+ representation in the art of theater. This organization focuses on helping underrepresented, marginalized identities feel visible and comfortable pursuing what they love. 
 Historically speaking, LGBTQ+ individuals have been highly underrepresented in theater in comparison to their cis-het counterparts. According to Breaking Character, the first mainstream play that centered around a gay plot, The Boys in the Band, debuted in 1968. The timing of this play was a powerful catalyst to the Stonewall Riots that occured in 1969, a turning point for the gay community. However, throughout the 1960s and 1970s, gay characters were still relatively  rare. 
LGBTQ+ theater took a turn as the AIDS epidemic rose in the 1980s and 1990s. By 1992, AIDS became the leading cause of death for American men aged 25-44. With AIDS having such a prominent influence on the LGBTQ+ community, many works of theater were developed with themes centered around the epidemic, some of the most influential including Rent and Falsettos. These musicals greatly encapsulated the grief, suffering and loss many members of the LGBTQ+ community experienced during the AIDS crisis.
Since the the 1990s, many other works of queer theater have been created , along with the inclusion of a few gay characters. Even, in contemporary theater, queer characters are still underrepresented or inappropriately represented. Many gay characters are portrayed in theater as a specific character trope or sterotype. For example, a common sterotype for gay males is the flamboyent, hyper-feminine  character that is used merely for comic relief. This perpetuates the harmful idea that queer individuals are not to be taken seriously, a popular trope in other forms of media beyond theatre. 
As an organization at Kent State, All In(clusive) Theatre opens discussion to harmful concepts regarding LGBTQ+ inclusivity.  
"We really want to push to have good representation of queer people of theater," says Arianna Sieloff, sophomore Theatre Performance major and president of All In(clusive) Theatre. "Yes, there are queer characters, but the stereotypes are actively making fun of us and its hurtful. We want to have something that brings to light how wonderful this community is."
This group endlessly advocates for proper inclusivity and media representation for queer individuals. They highlight the importance of theater inclusivity because theater is often forgotten among other forms of media. 
"In society, there is a perception of theater being a progressive and liberal art. That is not always necessarily true because there are still many systemic barriers to queer success," says Sieloff. "Inclusion in theater is especially important because of this reputation placed upon us by society. Because that it is not always accurate, it can be a hurtful expectation to experience as a queer artist." 
Ensuring understanding and educational ideals, All In(clusive) Theatre advocates as a space for all theater artists to feel validated in the arts. With its inviting environment and validating group-members, the organization also serves as a mentorship guide for theater majors throughout their college experience. The members emphasize that the group consistently helps one another throughout their journey through the theater program at Kent State. 
"All In creates a comfortable space for queer theater artists," says Ezra Silkes, Theatre Design, Technology and Production major and vice president of All In(clusive) Theatre. "We are also really focused on inclusivity of other types of marginalized identities, making sure that All In is a space for disabled artists or theater artists that are people of color." 
As their events are mostly online due to the pandemic, All In(clusive) Theatre currently meets on Discord on Mondays at 6pm. Although the majority of the club consists of theater majors, Sieloff asserts that the club is open to all majors. For further information on the organization, visit their website.