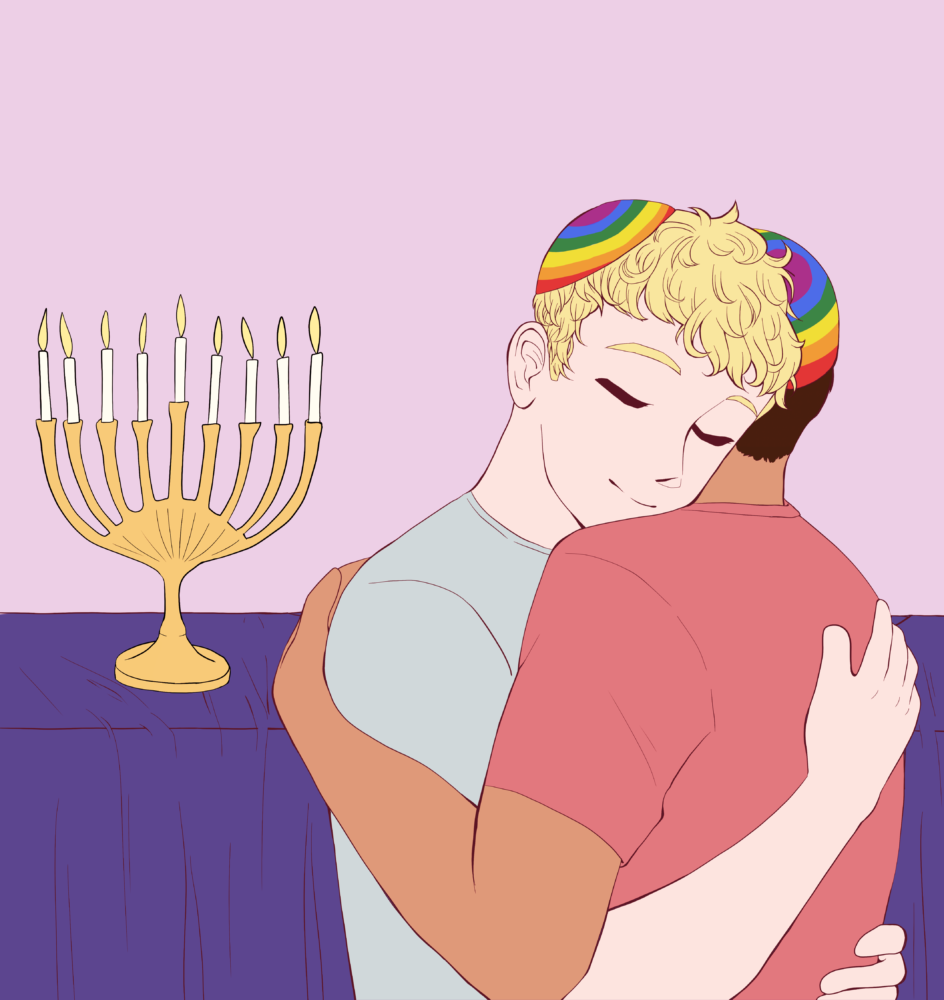 Queer identity can be difficult to define. When a person holds multiple marginalized identities, the task can become even more complicated. But for Ezra Silkes, founder and president of Kent State student group Ruach Queer Jewish Spirit, queerness and Jewishness are interconnected.
"I'm queer and Jewish, one word, intertwined," says Silkes, a junior majoring in theatre design, technology, and production. "One informs and leads the other…I love being both. It's given me so many opportunities, brought me friends, and community."
Even so, there is an unfair stereotype that religion equals bigotry against queer people. While there are completely valid experiences with hatred and rejection of queer people from religious spaces, it's not an inherent quality of any religion. In the past two decades, various Jewish movements, such as Reform and Reconstruction, have made overwhelmingly positive statements about the LGBTQ+ community in Judaism. Despite this, the negative connotation of religion meaning queer adversity still remains.
"In my experience, religion can be more of a topic of discussion than an identity," says Jaime Halpern, a fifth year at Kent State majoring in architecture, who is also a former treasurer for Hillel, the campus Jewish student center. "It's less accepted to talk about religion; it's taboo."
However, an individual can be both religious and queer; it is important to create intersectional spaces in which they can show up as their full self, unafraid of controversy in a space that is supposed to be welcoming to all.
Ruach creates a space like this on Kent's campus. While both Hillel and the LGBTQ+ Student Center have provided space for Jewish and queer students respectively, some students felt that a space where only their queer or Jewish identity alone could be expressed was not enough. In 2019, Silkes and two other since graduated students saw a need for an intersectional space and fulfilled it.
Ruach started as a subsidiary of Hillel and this year has been established as an independent organization. Silkes and Sarah Suntheimer, officer of Ruach and a senior majoring in [major], are planning a variety of programs for the year aimed at both socialization and social justice, some in collaboration with other campus organizations. 
Many queer Jewish students have greatly appreciated the ability to join Ruach. As Halpern says, "Being in a group that has the Jewish and queer identity common throughout the whole group…that's helped me hold on to my Jewish identity."
In Ruach, every member has a unique background and brings a different perspective to the group. This diversity is a core aspect of Judaism; as Silkes says, "Judaism is a religion of discussions, collective disagreement for better understanding." There are many interpretations of texts, practices, and theology depending on one's movement and being able to come together with these independent ideas is essential in understanding Judaism. 
"Being in Ruach helps me understand that not only am I welcomed, but I can see that even being a queer Jew is not a monolith, based on other identities and experiences people bring to Ruach," Suntheimer says. They add that Ruach can help you decide what you want your personal Jewish experience to be. After all, there is no wrong way to be Jewish.
All Ruach's weekly meetings are virtual, and can either be accessed through their website or their Instagram account, @ruachksu. Prospective members can fill out Ruach's membership engagement form to be added to a mailing list and eventually a group chat. You do not have to be queer or Jewish to join, but you must enter the space as an ally with a willingness to learn and understand the complex topic of intersectionality with more nuance. 
"Being queer and Jewish is complicated," says Suntheimer. "We all have room to individually develop our experience of Judaism through our queerness. We have the opportunity to redefine our Jewish experience…to pull from tradition inside and outside of the gender binary and heteronormativity."
A Note from Ezra Silkes:
"The people within Ruach and the support we have created is absolutely unparalleled and I really want to emphasize the fact that we as a group and a community can be whatever you need – we are here to support one another through intersecting identities, whatever that may mean. I know that this group and the space we have created is really important to me. I know that it is a space where I am able to be my full self, which is a rare feeling. I want people who are seeking community to know that there is a space for them, wherever it may be."