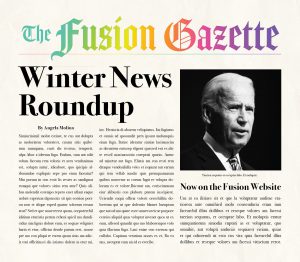 2020 has come and gone, and the first month of 2021 has already drawn to a close. The death toll and economic effects of the COVID-19 pandemic continue to worsen, and climate change made 2020 the hottest year on record. Misinformation about election fraud and alt-right violence culminated in a storming of the Capitol as the Senate certified the results of the 2020 presidential election. If you lost #LGBTQ+ #news in the shuffle this winter, Fusion has you covered.
Former mayor Pete Buttigieg confirmed as transportation secretary.
On Feb. 2, former mayor of South Bend, Indiana, Pete Buttigieg became the first openly gay man to be confirmed by the Senate to a Cabinet position, NPR reports. Buttigieg was confirmed by a vote of 86-13 and will serve as transportation secretary for the Biden administration. Overseeing the Department of Transportation, Buttigieg is expected to play a key role in the administration's green initiatives, including developing U.S. infrastructure, expanding zero-emission mass transit and boosting infrastructure for electric vehicles. The Human Rights Campaign congratulatedButtigieg on his confirmation, stating that it "breaks through a barrier that has existed for too long; where LGBTQ identity served as an impediment to nomination or confirmation at the highest level of government."
Biden signs executive order to enforce anti-discrimination protections for LGBTQ+ people.
President Joe Biden signed an executive order on Jan. 20 to ensure that the federal government will not engage in workplace discrimination on the basis of sexual orientation or gender identity. The order is one of 17 that Biden signed on the day of his inauguration to reverse many of the Trump administration's policies. Others included reversing the travel ban on several Muslim-majority countries, rejoining both the World Health Organization and Paris Agreement, halting construction of the border wall and expanding efforts to combat the COVID-19 pandemic.
Federal judge overturns Ohio's anti-transgender birth certificate policy.
A federal judge in Ohio struck down the state's policy that prohibited transgender residents from correcting the gender marker on their birth certificate on Dec. 16, CNN reports. Judge Michael Watson wrote in his decision that the state had allowed such changes before 2016, when the policy was instituted, and that the policy was unconstitutional and discriminatory in nature. The ruling is considered a victory for transgender Ohioans. The ability to correct their gender marker on their birth certificate allows transgender people to more easily access housing and employment opportunities. Tennessee remains the only state with a ban on correcting birth certificates.
LGBTQ+ people now eligible for domestic violence protections nationwide.
The North Carolina Court of Appeals ruled that LGBTQ+ people in the state are eligible to receive domestic violence protections, NBC reports. The state was the last in the country to extend protections to same-sex couples, granting access to LGBTQ+ people in all 50 states. Previously, LGBTQ+ North Carolinians were explicitly barred from the same domestic violence protections as heterosexual couples due to a state law that defined a relationship as between "persons of the opposite sex." The appeals court ruled that the law was unconstitutional in a 2-1 decision.
Trump administration's ban on transgender troops reversed.
On Jan. 25, President Joe Biden signed an executive order reversing the Trump administration's ban on transgender troops serving in the military, the New York Times reports. The ban, which former President Donald Trump began considering in July 2017 through a series of tweets, received criticism from military leaders and LGBTQ+ advocacy groups. GLBTQ Legal Advocates & Defenders and the National Center for Lesbian Rights filed two legal challenges to the ban following the announcement; in early 2019, the U.S. Supreme Court allowed the ban to take effect. GLAD and NCLR said in a statement that they anticipate "a swift resolution of all pending lawsuits opposing the ban with the issuance of [the] order."
Ohio bill to ban trans athletes from competition has first hearing.
The Ohio Legislature has advanced a bill that would ban transgender athletes from participating in competition, the Buckeye Flame reports. HB 527, also known as the Save Women's Sports Act, was originally introduced in February 2020 by Reps. Jena Powell and Reggie Stoltzfus and "would require schools, state institutions of higher education, and private colleges to designate separate single-sex teams and sports for each sex." The bill had its first hearing with the Ohio House Primary and Secondary Education Committee on Dec. 3. Equality Ohio writes that the committee is required to hold a hearing for all bills by law and that this does not necessarily indicate the House's interest in passing the bill.
Puerto Rican man dies, becomes second known transgender person killed in 2021.
Samuel Edmund Damián Valentín, a transgender man, was killed on Jan. 9 in Trujillo Alto, Puerto Rico, according to the Human Rights Campaign. He is believed to be the second transgender person to die by violence in 2021; Tyianna Alexander, also known as Davarea Alexander, was the first reported violent death of a transgender person in 2021. Before his death, Valentín spoke out against anti-LGBTQ+ violence in Puerto Rico, where at least six transgender or gender-nonconforming people were killed in 2020.
JoJo Siwa comes out as member of the LGBTQ+ community.
YouTube star JoJo Siwa, known for her appearance on the reality TV show "Dance Moms," recently came out as a member of the LGBTQ+ community. Siwa had made two posts on Instagram indicating that she was coming out and expressed gratitude for the support she has received via Instagram Live on Jan. 22. She has also said that she was not ready to put a label on her sexuality yet. Following her coming out, Siwa claims that she was swatted, which is the act of calling the police on an individual under false pretenses with the goal of startling, harming or causing the arrest of that individual.