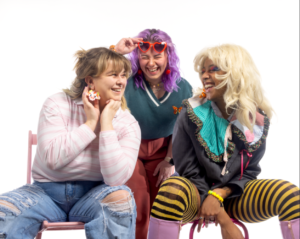 The idea that queer people will make an earring out of anything has been a long-running joke within the LGBTQ+ community. If a pin can be placed through it, someone will turn it into a piece of jewelry.
Today, these odd pieces of homemade jewelry are used as a form of queer signaling; a method of indicating queerness to others without the specificity of wearing a rainbow pin or a pride flag. 
"I think the weirder or more obscure the jewelry, the stronger the signal," Julie Marcum, fashion merchandising student at Kent State University said. "I think queer people aren't afraid to express themselves with fashion, and our jewelry is a testament to that. It's one of the more obvious signals queer people have."
Reegan Saunders, journalism student at Kent State University, shared a similar sentiment. "There are a lot of methods of queer signaling that have floated into the background, but I like that funky jewelry is the method our generation has really connected with. If a piece is handmade I tend to fall in love with it."
Showing off queer jewelry collections and creations has become a popular trend on social media, especially on TikTok. In fact, the tag "#lesbianearrings" has garnered 153.8 million views.
"As a fat, genderqueer person, I used to have a hard time expressing myself with clothes," said Bee Reid, a queer jewelry creator and graduate student at Kent State, "but jewelry was an accessible way of expressing my queerness."
Many queer people have turned to making their own jewelry as a form of self-expression as well as a method of signaling. 
"I don't think I knew weird earrings were a way of signaling when I started," Reid said. "I wanted to make jewelry for me and my community, but, in making these, I found more people making queer earrings and even more inspiration and support!"