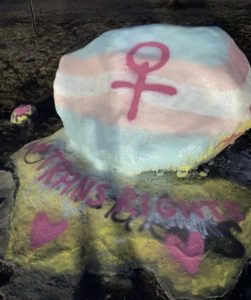 This article is in collaboration with Kent Wired.
"What Is a Woman?"
That was the question painted on the large rock located at the front of campus March 20.
It is also the name of a documentary presented by Matt Walsh, a conservative political commentator.
The Kent State College Republicans held a showing of the film "What Is a Woman?" March 20 and posted a photo of its rock painting to Instagram the same day.
The post has received attention and backlash from the LGBTQ+ community and other students on campus who say the film and its promotion encourages anti-trans discrimination.
Students have said the documentary directly promotes transphobia and hate speech against people who are seeking or have sought gender-affirming care.
"When they actually painted the rock [. . .] it was just immediately very disheartening," said junior biology major Christopher Wood, a transgender man on campus. "It's very upsetting to me. The connotations of that film are very honest like that. They're very transphobic, out there rude and it's just very sad to see that that's something that not only is being shown on campus, but that people feel empowered enough to discuss that so loudly by putting it on the rock like that."
In response to the painting of the rock, Marina Difranco, a senior visual communication design major, created a petition and website with the goal of stopping transphobia from spreading at Kent State.
"Nobody wants to see this on our campus," she said. "It doesn't matter if you're Republican, Democrat, old young, a student – this type of speech shouldn't exist anywhere."
Difranco said she doesn't believe the Republican group "should be taken down or dismantled," and called for all student organizations to strive for inclusivity.
"All organizations that are Kent State-affiliated, whether that's Greek life, athletics, student media, any student organization needs to be held accountable under the same standards that the university has in their student code," she said, "and I don't believe that's what's happening right now."
The petition has over 2,000 signatures.
When Difranco met with Dean of Student Affairs, Taléa Drummer-Ferrell, she said Drummer-Ferrell told her no action can be taken against the Kent State College Republicans at this time because they were practicing freedom of speech.
The Kent State College Republicans did not respond to a request for comment.
Lauren Vachon, an assistant professor who teaches LGBTQ Studies and organizes the LGBTQ minor program, said she felt very upset about the rock's painting.
"A value that this community has and shares is a value of freedom of thought, speech and expression and that's super important to protect," Vachon said. "So I think it's not to say [. . .] you can tell a group that they can't bring the documentary, although it has been banned from platforms for being considered hate speech. We know that the intent was antagonism. I do think there should be consequences for that. It's not about free speech."
Grey Leffingwell, a trans graduate student, previously led diversity efforts and Safe Space trainings at Marshall University before transferring to Kent State. They said they are concerned about the current rise in anti-trans rhetoric.
"There are laws going on all across the nation that are particularly targeting trans people," Leffingwell said. "By allowing that to go on and also by condoning it, it's not a good or safe environment for a lot of people [. . .] it's also going to potentially increase the risk of further hate crimes and discrimination."
Leffingwell said the best way to help the LGBTQ+ community is to speak up against harassment, and they encouraged people to utilize the LGBTQ+ Center, which is located in the Student Center.
In addition to the backlash faced from the painting of the rock and the showing of the documentary, students were also upset about texts from a group chat with several members of the Kent State College Republicans.
Alleged leaked screenshots of the group chat show conversations that include members using the phrases "launching a straight up war," and "Careful they may call in the National Guard" in reference to their group allegedly putting posters in the LGBTQ+ Center.
Difranco included a copy of the alleged messages along with pictures of the painted rock and her petition in an Instagram post the week of April 10.
"I have been very frustrated," Vachon said. "I'll absolutely say that it's been very challenging to know that this group of people in this group chat thought it was funny to antagonize LGBT and trans people. The intent in bringing the documentary and the intent in even promoting it was antagonism against the LGBT community."
Vachon said she was not surprised by the Kent State community's response.
"The natural consequences of this kind of antagonism toward the LGBT community is what's happening, which is student outrage and planned protests and change.org petitions and pressure on the administration to address it, and […] protect[ing] LGBTQ communities who feel unsafe in this kind of political environment," Vachon said. "Those are consequences that are happening, and I think that's all super appropriate now that students know about it."
Wood said he chose Kent State because he thought it is one of the most liberal schools in Ohio, and because of recent events, he said he feels like his safe space is being threatened.
"When I first saw all of the stuff going down, it made me feel a little bit unsafe, especially with the growing transphobic rhetoric in this country right now," he said. "We have all these resources and when I first saw all of that, it was just a gut punch."
Wood added that the petition's circulation has made him feel more comfortable with his identity because of the amount of support it has gained from the community.
Vachon said that she was less scared when she came out as queer compared to how scared many transgender people feel today.
Vachon said she thinks the overall treatment of trans people has improved, but incidents like the rock painting and documentary advertisement create a "hostile environment."
"This is happening in a moment that is already really scary and fraught for trans people and already a very politically charged moment," Vachon said. "That is a scary big picture that is harming trans people right now."
Jillian Flack and Molly Hoffer are reporters. Contact them at [email protected] and [email protected].