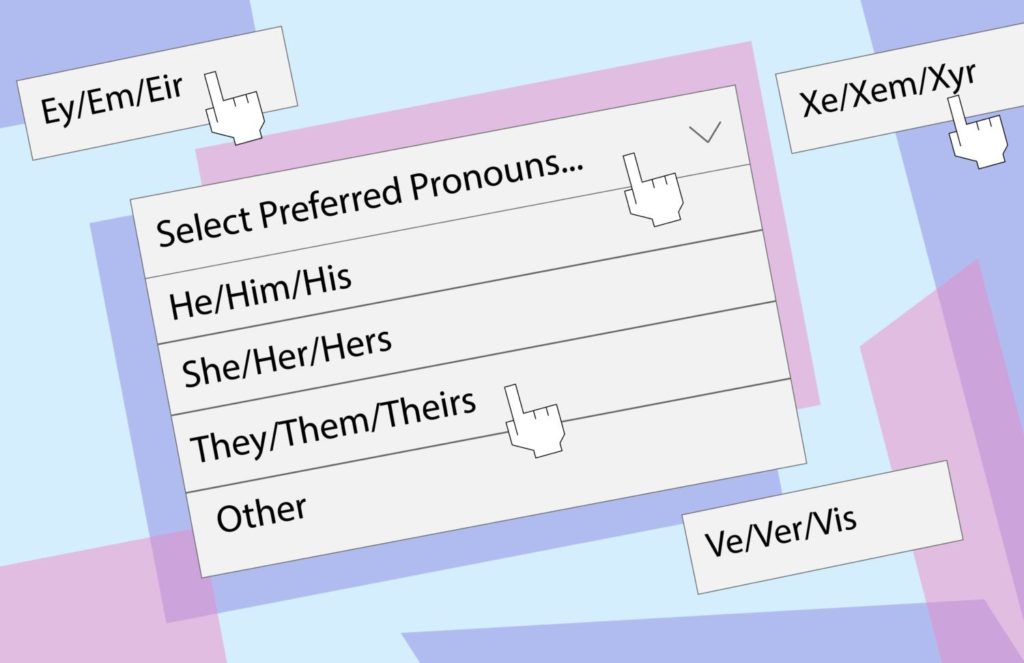 Canvas, Kent State's new learning system, allows students to include pronouns in their profiles. This is a change from the previous system Blackboard.
While the school supports this inclusive concept, its technology is delaying full implementation, and can't fully change people's habits. 
For this reason, the push for pronoun inclusion at Kent State starts with normalizing usage. This can be done informally by individuals and helps more people get used to seeing pronouns.
Individuals can put pronouns in email signatures, say them during introductions or put them on nameplates in offices, said Katie Mattise, the director of the Division of Diversity, Equity and Inclusion.
It takes much more effort to formally implement pronouns campus-wide. Students, faculty and staff have been urging the university to make a commitment to institutionalizing pronouns and chosen names for years.
Educating everyone in the Kent State community is the first way advocates are trying to establish pronoun use at the school. People can sign up for the safe space curriculum and learn more about pronouns.
Getting pronouns into the university's computer systems is the second step. Kent State uses hundreds of systems and platforms, staff said. It takes time to figure out how to get all the programs to communicate with each other. The process has been hindered by understaffing caused by the coronavirus pandemic, but it's in progress, technology staff said.
Currently, pronouns and chosen names can be listed in some systems such as Banner. However, other systems do not display that information because the systems do not communicate with each other, leading to a lack of consistency.
"It's a matter of collecting the data and then getting it disseminated to all of these various places … then getting people used to looking for it," said Erica Pelz, the Facilities Mechanical Specialist for Laboratories.
These technical aspects need to be joined with education to be implemented at the school. They are equally important and support each other, said AJ Leu, the College of Communication and Information Diversity and Career Development director.
"We can't do what we need to do if the systems don't work properly, and even if the systems work properly, that's not going to help us if people aren't committed to utilizing pronouns correctly," Leu said.
Pronouns are part of a person's identity and it can feel disrespectful to be addressed incorrectly, Mattise and others said.
"Who people are matters, and addressing people correctly matters," Pelz said. "It goes down to a core value of respect and seeing someone for who they are."
Colleges are invested in helping LGBTQ+ students feel like they belong. For transgender and nonbinary students, belonging includes being seen as their true selves, which involves pronouns and chosen names.
"How can you even start to feel like you belong somewhere if people won't even address you properly?" Leu said. "That's like step negative one."
Incorporating pronouns into the school's computer systems can make it easier on transgender or nonbinary students because it prevents students from getting misgendered without requiring them to share their pronouns in every class. 
"It relieves that pressure," Mattise said. "It also takes some of the weight off of you to have to start the conversation because it's already started."
Getting misgendered adds to gender dysphoria, or psychological distress related to a person's assigned sex and gender identity. Gender dysphoria harms mental health, resulting in depression and sometimes suicide. 
A study of 129 transgender and nonbinary youths found that chosen name use was linked to lower levels of depression and suicidal thoughts in transgender youth. As with chosen names, Pelz said pronouns also affirm a person's identity.  
While using pronouns can help students, those who haven't come out could face significant risk if their chosen name or pronouns were revealed. The choice to share pronouns needs to stay optional to combat this, Leu and others said.
Birth names and pronouns are always used when sending information home because there's no way to tell whether a student is safe. The school is working on giving students the option to designate whether to put their legal name or chosen name on information that goes home, Mattise said.
Technical and educational changes can impact the way the Kent State community uses pronouns, but it will not be perfect. People will still make mistakes and need to be corrected.
"No matter what we do," Leu said. "There's always going to be that gap, and I think people just have to understand that."