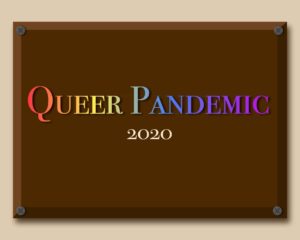 Kent State students and faculty have been working diligently to gather LGBTQ+ research for the Queer Britain museum in London, which opens this summer. Queer Pandemic is a project in the museum's Virtually Queer collection  centered around oral histories of various queer individuals in the UK during the pandemic. 
Queer Britain began as a charity organization in February 2018. The organization formed with the intent to open a national museum in London highlighting LGBTQ+ history. Kent State's involvement with Queer Britain has its roots with Molly Merryman, the Research Director of Queer Britain and a Kent State Peace and Conflict Studies professor. Merryman has been working with the museum since 2018 and is the lead researcher for the Queer Pandemic project. Through this research process, she has been organizing interviews with queer individuals in the UK and collecting videos to establish an oral history exhibit in the new museum. 
"Most of LGBTQ+ history has been lost, and generally what has been preserved is material culture and evidence related to more privileged people," Merryman says. "I started gathering oral histories of everyday people, non-famous people, non-rich people. The idea is to create this sustained ongoing collection that keeps building to create a large national repository of oral histories." 
Merryman emphasizes the importance of gauging a face-to-face, visual connection through the interviews, as it is completely different than reading a transcript. Through these virtual interviews, Kent State students in the LGBTQ+ Research Methods class were given the opportunity to engage in these conversations. This course is required for the LGBTQ+ Studies minor, consisting of various students in the program. 
Taught by Lauren Vachon, a member of the Queer Britain research team and Kent State LGBTQ+ Studies professor, the course is the epicenter of student involvement for the Queer Britain exhibit. Vachon states that the course began with students conducting research interviews with local Kent State LGBTQ+ community members. Since the pandemic and increased access to Zoom, the class has become greatly centered around the Queer Pandemic project. If sources allowed, each student in the class was required to conduct an interview. 
"At one point, we did not have enough interview subjects while I was teaching the course. Although students weren't able to interview people in the UK, they still did something hugely valuable: they transcribed the interviews that had already taken place." Vachon says.
"Transcription is really important in terms of using oral histories or other research. It's a huge reporting step and a great contribution to the research process as a whole." 
The guide for these interviews consist of intentionally broad questions about identity and the pandemic. As every individual has a different story to tell with their experiences with the pandemic, the guide is meticulously crafted in a way that allows for varied results. 
"What's really amazing is how the same list of questions can spawn two completely different interviews. One person will explore in extreme detail a current picture of the way that they're living and somebody else will reminisce about the past," Vachon says. "The magic of oral history is sort of letting that happen. You're not trying to get the same answer, or a certain set of answers. You want it to tell a unique story." 
Through the art of oral history, the faculty  and students involved intend to tell the stories of queer individuals during the pandemic. This project encapsulates real-world modern histories surrounding various groups of people, each with a unique experience. 
 "What we hoped to accomplish was to collect stories and document LGBT lives during the pandemic. Because if we didn't do it, it would be lost forever," Vachon says. "There's a difference between interviewing someone during an event and after an event. That difference sounds simple and easy to understand, but can be pretty profound."
The museum is projected to open this upcoming July in London. It should be noted that any student with an interest in this project is invited to join. If interested, contact Molly Merryman at [email protected].