President Barack Obama's visit yesterday marked what many students are calling a "once in a lifetime experience." Students of all majors, ages and values stood in a line that stretched from #Kent State's M.A.C. center all the way back to Kent State's Music and Speech hall– All 6,000+ to hear our 44th President speak in hopes of re-election this November.

"I'm here because Obama has a better stance on #student issues and college loans," Kevin says. "He helps students out, and that's something that's really important to me." Kevin tells me he learned a lot of great card games that night, too. "We had to get really creative to fill up our time in one spot," he says with a laugh.Some complained about the torrential downpours, but the weather didn't stop #Kevin Ball, a junior pre-nursing major, who proudly stood as the first person in what a lot of people called "The Obama Line." Kevin says he took his spot at the front of the line at 10pm Tuesday to hear the President speak almost 8 hours later Wednesday evening.
Other students found really creative ways to wait for Obama, too. Sabrina Simms, a senior studying fashion design, Heather Kunkle a sophomore PR major, and Morgan Jupina, also a sophmore studying PR all took their spot in line at 4:30am Wednesday — in a tent.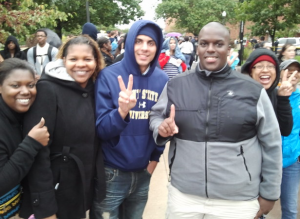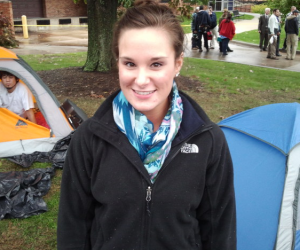 "This is a once in a lifetime experience," Morgan says. "Heather and I didn't even know Sabrina, but we're all good friends now. We've all made SO many friends in this line." Morgan tells me she was the first person in line to receive an Obama ticket at 3:30am on Monday, so she's "willing to stick it out and see this great man speak."a sophmore studying PR all took their spot in line at 4:30am Wednesday — in a tent.
"I'm so fucking excited to see Obama speak!" Shannon tells me. "There are very few times when we get to experience something like this, so I jumped through hoops to be here. I love Obama." Josh says when he hears Obama speak he gets chills, "I'm so ready." Shannon tells me she's probably going to blubber up like a baby and cry, but she's OK with that.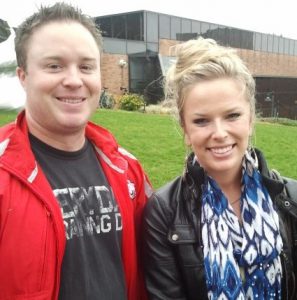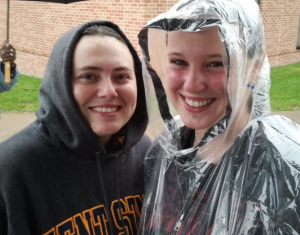 Korina spoke passionately, saying "I'm gay and I'm proud. I have a vagina and I want to have the right to decide what to do with it. If you're a woman and you're voting for Romney, you're a moron."Economical issues and authentic love for Obama weren't the only driving forces bringing students to hear the president speak.Danielle Martin, a senior french and russian translation major, came with her girlfriend Korina Jensen, a junior studying criminology. Danielle says that she's here because she's "a student with a brain" who's pressing for #women's rights and same sex marriage.
Protestors were still in full swing, though. Three students (pictured left) repeatedly walked up and down the line yesterday shouting their disgust toward Obama, but claimed they weren't Romney fans either. One protestor's sign read "A village in Kenya is missing its idiot," and another read "I'm with stupid" pointing toward the third student in an Obama mask. More protestors were present toward the front of the line, but not as many as the university expected, according to an Obama line volunteer who wishes to remain anonymous.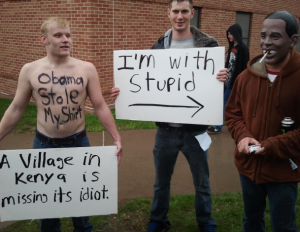 More photos from yesterday's Obama Line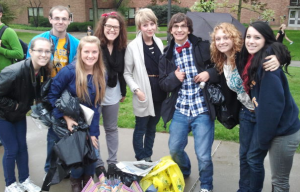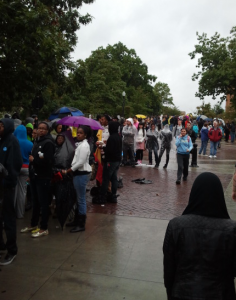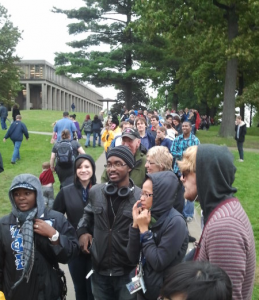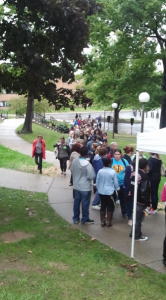 Do you have a cool story to share about your experience from yesterday's Obama Line? Tell us in the comments section!