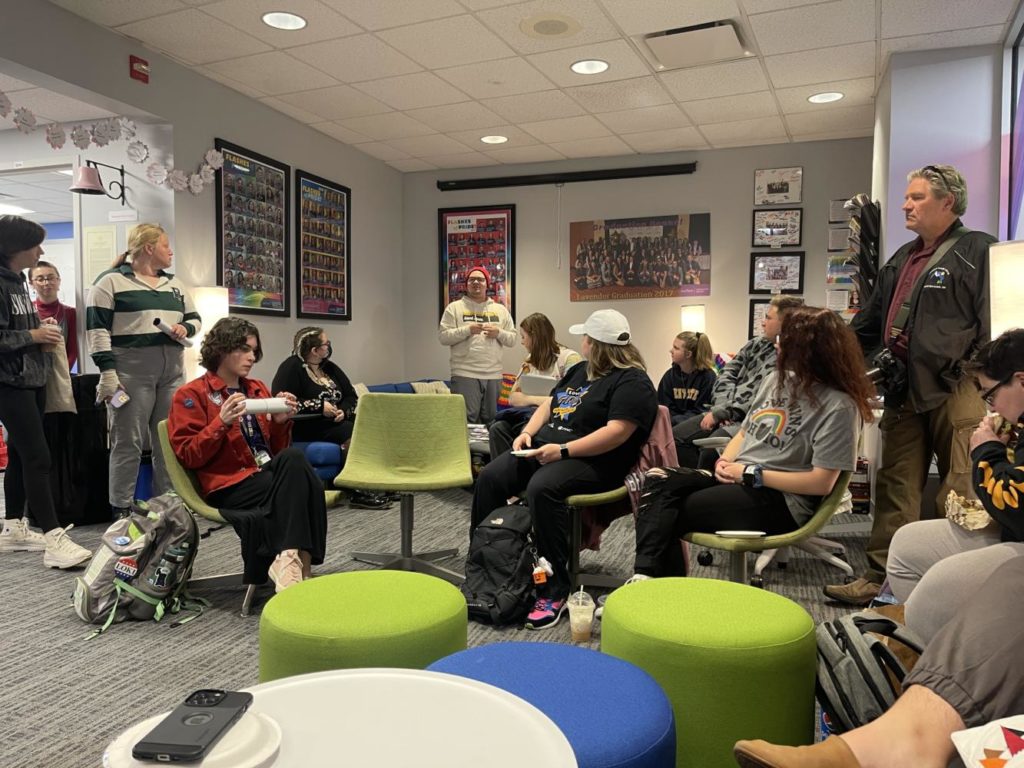 Story by Babz Glines and Amanda Stayer
On October 11, Kent State's LGBTQ+ Center revealed this year's "Flashes of Pride" campaign. This is a campus wide opportunity uniting queer staff members, students, and allies. The group celebrates their individual pride by taking a picture to represent LGBTQ+ support all around the Kent State University campus. This year was the seventh annual Flashes of Pride, which typically falls on national coming out day. To celebrate and support the LGBTQ+ community at Kent State, the poster comes out on national coming out day to give students courage to come out. 
The event was very casual and comforting. There were snacks, cute decorations everywhere, and an array of board games in the corner. The LGBTQ+ Center has counseling groups on Wednesdays, internship opportunities, along with mental health and financial resources. When it opened up the room, people started talking about their queer journey and why they wanted to be on the poster, a face of pride that is now available for the whole campus to see.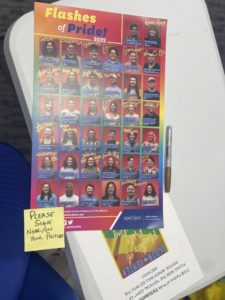 Dylan Pinkerton, a sophomore who uses he/they pronouns, was one of the people featured on the poster this year. He wanted to put himself out there as a queer person on campus. "Kent is already well known as a queer friendly campus, so I like putting myself out there," they say, "It's a fun time. And I just did it, because like, why not?"
Pride can be shown in a lot of different ways. The LGBTQ+ Center uses their poster to help show pride in the people at Kent State. For Pinkerton, pride means representing his authentic self. They describe it saying, "The best way that you can show pride is in multiple ways, just like how people represent themselves in multiple ways. Pride should be unique to the person."
Having pride on campus is important. Studies conducted by Lehigh and Ohio State University have found that LGBTQ+ centers on college campuses play an important role in "fostering the health, well-being and academic achievement of LGBTQ+ students." Marginalized students face health disparities, harassment, increased rates of anxiety and depression, or are in unsupportive homes. LGBTQ+ centers on campus help to combat these discrepancies and create a safer community for students.
"Queer students who might not have been accepted back home, who might have been kicked out or who might be figuring out life on their own, can make community here," says Pinkerton, "They can come to this type of space that is made for them by the community, so that way, they can be a part of the community."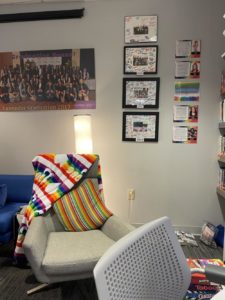 They also add to that on how important it is for queer youth, "This is a place that promotes education, because the biggest thing is we should never forget where our roots as queer people lies. It's important to promote not only education and acceptance, but also understanding where we came from as queer people." 
The reveal was also hosted on National Coming Out Day, an annual awareness day to support LGBTQ+ people in coming out of the closet. According to the American Psychological Association, the day was founded in 1988 by Richard Eichberg and Jean O'Leary in order to raise awareness for the LGBTQ+ community and its civil rights movements. The date of October 11 was selected in honor of the anniversary of the second major National March on Washington for Lesbian and Gay Rights, which took place 1987. The LGBQT+ Center continues this support of the community by celebrating with the poster.
Pinkerton gives this advice for someone looking to come out, "Make sure you do it your way on your own terms, it is supposed to be a special moment that you as a queer person should have. Surround yourself with those who you know will give you support. It doesn't have to just be family, it can be friends, it can be chosen family, it can be whatever. Have fun with it. It's a day of coming out and it's a day of celebration for all your people. So do it how you want to do it."