For many same-sex couples, adoption is a beautiful way to grow their family. This was certainly true for Brian and Rick, a couple from the Columbus area. They knew early on in their relationship that they wanted to adopt a child—it was only a matter of choosing an agency to work with through the adoption process. After some searching, they landed with the Choice Network, an agency that is welcoming and supportive of #LGBTQ families looking to adopt.
On Choice Network's page about LGBTQ adoption, it starts with the simple statement "love makes good families." This statement is followed with a promise to LGBTQ families that are willing to work with their open adoption process stating, "We also will fight for you. Choice Network does not shy away from hate. We are armed with well documented research, honest stories of our own, and the inherent truth that love makes good families."
The acceptance and support from the Choice Network allowed Brian and Rick to adopt their daughter Harper, a wonderful addition to their family but the process was not easy. While trying to find an accepting agency can be challenging enough for LGBTQ couples, the adversities specific to same-sex couples continue. Brian summarized one major drawback, saying people "will ask you questions that they would not ask a couple that is having a child naturally."
Likely the most direct question that same-sex families deal with is "what do two dads do with a baby?" says Brian. To which he simply responds with "we are a very typical family." Their family does common activities for most families, like going for walks, reading together and naptime. "(We) look like any other family dynamic," says Brian.
In the face of struggles presented to LGBTQ families in the adoption process, support is key from friends and family, something that can be rather tricky and sensitive for the family and supporters alike. Brian's advice for those trying to assist is to remember that "support can evolve and change," and the support needed for families like Brian, Rick and Harper has evolved into a state of emergency.
November is National Adoption Month, and the Trump administration kicked it off by proposing a new rule that would revise part of a legislation that Obama put in place in the final hours of his presidency. In the revision, adoption agencies could turn away same-sex couples based on religious grounds.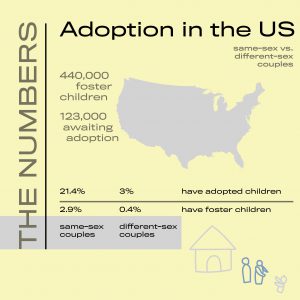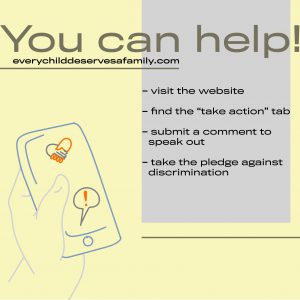 In response, Julie Kruse, the director of federal policy at Family Equality stated, "It is outrageous that the Trump administration would mark the start of National Adoption Month by announcing a rule to further limit the pool of loving homes available to America's 440,000 foster children."
Restricting LGBTQ families from the adoption process may have a harsh effect on America's foster children. Of the 440,000 foster children in our country, 123,000 are awaiting adoption. And their chances only begin to dwindle when you take away the large number of same-sex couples who wish to add them to their families. A study done by UCLA found that "One in five same-sex couples (21.4%) are raising adopted children compared to just 3% of different-sex couples, and 2.9% of same-sex couples have foster children compared to 0.4% of different-sex couples."
The new rule proposed by Trump's Administration will be open to comments from the public for 30 days, ending on December 18. At that time, they will be reviewed and a final decision will be made. No matter the outcome, agencies like the Choice Network will continue to work with LGBTQ families like Rick and Brian to give children like baby Harper loving homes.
December 18 will be the end of the public comment submission period. To share your input on this issue with the Department of Health and Human Services, submit a comment here.