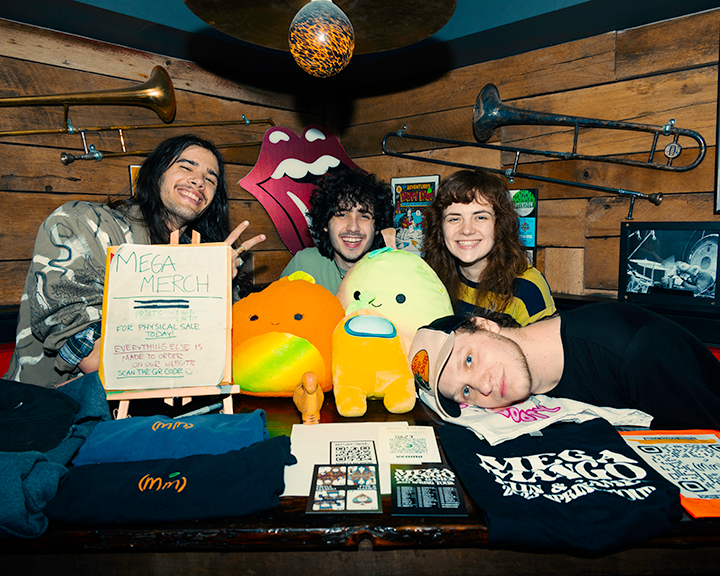 In the city of Philadelphia, a new subgenre of music is gaining popularity. Phruitcore is an "east coast established rock genre" that "combines experimental soundscape ambiances, easy flow feels, and influential indie rock bands," in accordance with Elton Audio Records. This subgenre was started by Mega Mango, a four piece band from Philadelphia with a unique sound that could not be categorized in any other way.
Mega Mango was established in 2018 by a few college students; Crow Costello, Niko Jones and Alex Spagnolia. After dropping two singles and their first EP entitled "Hit the Dirt," the band went on a two year hiatus. During this time, their debut single "You Spent All Your Love" garnered over 700,000 streams, according to their website.
Mega Mango returned to the music scene fairly recently in 2022. With their return came three new songs and a new drummer, Sam. Their song "Risk," one of the three songs they dropped upon their return, recently reached 2 million streams on Spotify. With an active TikTok account and a passionate fanbase, Mega Mango is continuing to rise in popularity.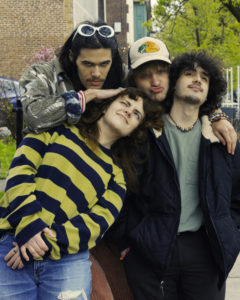 I had the unique opportunity to spend time with the members of Mega Mango before their show at CODA in Cleveland on April 25th. This show was towards the end of their "Fun and Games" U.S. tour, appropriately named after their most recent EP. Their tour ended on May 4th in New York. 
Having listened to Mega Mango's music for a while, I was incredibly excited for the opportunity to not only see them perform live, but also photograph them and have the chance to grab dinner with them at Barrio in Tremont before the show. 
The first thing I noticed about this band was how close they were with each other. Granted, you have no choice but to get close if you're riding across America in a minivan for a few months and playing shows together every night. That being said, it was clear that this group of 20-something-year-olds had formed a strong bond, and that bond shines through in everything that they do. 
Jones is the group's bassist and "vibe technician," according to his biography on the website. He has an suave, charming personality, definitely everything you can expect from the bassist of an indie rock band. Jones clearly loves what he does, and gets a kick out of performing live and connecting with the audience. 
The group's producer and guitarist, Spagnolia, also produces music under the name Diet Lemon for the Phruitcore genre. Spagnolia is incredibly energetic and a lot of fun to be around. He's quick on his feet and cracks jokes all the time, which keeps the band and the people around them laughing. Spagnolia also notably produced and mixed a new single, called "Sheets," for the band while on the road.
Poll is the band's drummer and newest member. He's friendly and outgoing, and an insanely talented drummer. Poll's passion is so much fun to watch, and it's obvious that he pours his heart and soul into every beat he plays. He's also a fan of "committing to the bit," something that I found not only entertaining but also very relatable. 
Lead singer and guitarist Costello is the quietest of the bunch. When they do speak, they are incredibly witty and insightful; a fact that is no surprise given that they write most of Mega Mango's lyrics. Costello also writes chords and melodies for the band's songs, according to their biography posted on Mega Mango's website.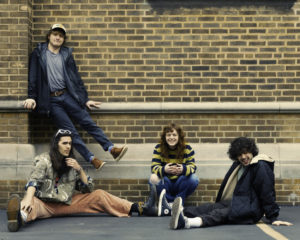 Costello's lyrics appeal to the human experience in a special way. They speak to the melancholy, joy, frustration and connection that comes from life itself. Their voice is uniquely gentle and strong, with a passionate sound that comes from the way they pour their heart into both their lyrics and their performance. Not to mention, their vocals are just as stunning live as they are on recorded songs.
Although Mega Mango has just wrapped up their "Fun and Games" tour, I would encourage anyone to see them live if they have the opportunity. They are incredibly talented performers, and I have no doubt that they are going to gain popularity very quickly. Not only is the group fabulously friendly, they are also humble and they love connecting with their fans. After the show, all four band members sat behind a makeshift merch table and chatted with each person in line. 
If you are a fan of indie music, and you want to get in on the Phruitcore genre, it is worth your time to give Mega Mango a listen. Not only is their music fantastically unique; their group is also made up of kind, lively people that are incredibly passionate about what they do. They share a special bond with their fans, and I have no doubt that this connection will continue to grow as their brand and fanbase continues to expand.