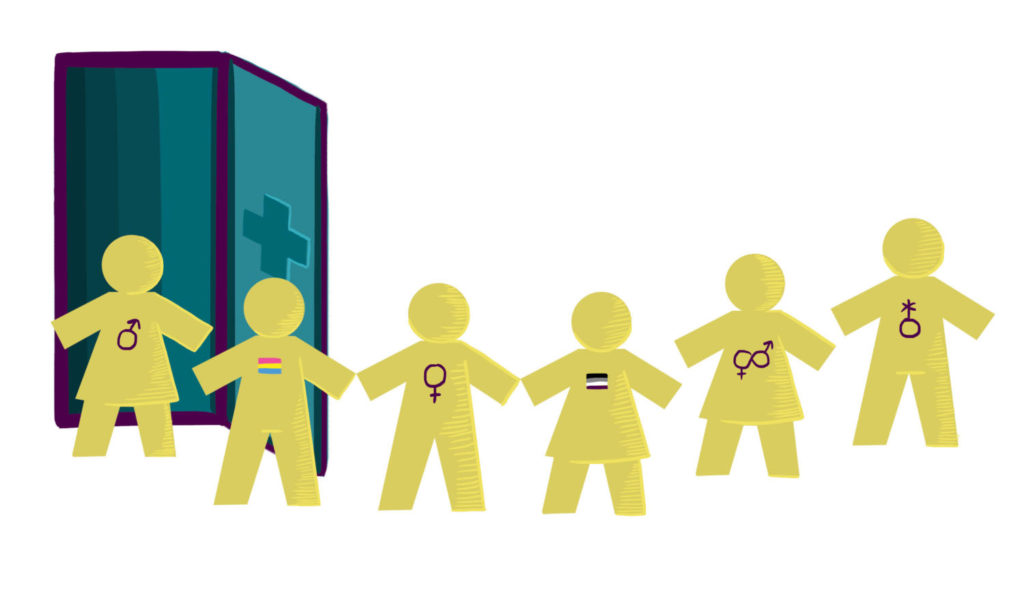 In collaboration with Kent Wired
2021 is considered to be the worst year for anti-LGBTQ+ state legislation since 2015. According to the Human Rights Campaign, there have been over 250 anti-LGBTQ+ bills introduced across the country. Part of this recent anti-transgender crusade is Ohio's House Bill 454. State Representatives Gary Click of District 88 and Diane V. Grendell of District 76 introduced the bill on Oct. 19. From the Ohio Legislature, the official title is the Enact the Save Adolescents from Experimentation (SAFE) Act.
This bill is a direct attack on transgender rights, targeting the health of trans youth. It would forbid any gender-affirming care for transgender, nonbinary or gender non-conforming minors. This would override the desires of the patients, parental consent, health diagnosis or a previous care plan. 
House Bill 454 would also prevent any insurance coverage of necessary care for transgender youth, against the Affordable Care Act, Medicaid, Medicare and individual insurance policies. According to Planned Parenthood Ohio, this means guardians paying their same premium would be denied the medical care their children need, regardless of the coverage included in these insurance plans.
The impact from a lack of medical care will have detrimental effects on trans youth. The Trevor Project's National Survey on LGBTQ Youth Mental Health 2021 shows that 42 percent of LGBTQ youth have seriously considered suicide. Of this 42 percent, over half were trans or nonbinary.  Of the trans youth who considered suicide, 20 percent attempted in the past year. This number will only grow if transgender youth are denied necessary medical care.
"This bill is violence towards a demographic of people who already have high rates of mental health issues and suicide due to the transphobia they face," said Graham Callahan, a transgender student at Kent State University majoring in theater technology and an intern at Kent State University's LGBTQ+ Center. 
"Spending your formative years living in a body that doesn't align with who you are is agonizing," Callahan described. "I don't think that cisgender people actually realize how painful it is; trans people die by suicide because their dysphoria is so bad."
Transgender, nonbinary and gender non-confirming youth have the best chance to thrive when they are supported. The Trevor Project reported that trans and nonbinary youth who had their pronouns respected by the people they lived with attempted suicide at half the rate of those whose pronouns were not respected. They also found that trans and nonbinary youth who were able to change their name and gender markers on legal documents reported lower rates of suicide attempts. 
House Bill 454 does not only impact medical care for trans youth, but also their experience at school. It would force teachers and other school staff in Ohio to "out" students they suspect to be transgender, nonbinary or gender non-confroming to their legal guardians. This suspicion has the potential to reinforce gender roles and stereotypes against trans people. 
Outing is defined as exposing someone as LGBTQ+ without their consent, which could "have serious repercussions on employment, economic stability, personal safety or religious or family situations," according to the Human Rights Campaign. 
K-12 schools have different policies regarding student name and pronoun changes. Some schools require parental consent before accepting the change, while other schools respect the student's identity. 
The current policy at Field High School in Suffield, Ohio dictates that teachers are, "To respect a student's choice of pronoun and name and are not to inform parents if the child has asked for alterations in either of these," described Christine Burke, an English teacher at the school with 27 years of experience and 10 years teaching CCP courses and courses at Kent State University.
A change in this policy brought on by state legislation would lead to a lack of safety for transgender students while at school. Burke explained that her administration sent out a survey to students to ensure they all had an adult they could trust at the school and could come to if in need of help. If this bill passes, "it would remove every single name from that list for transgender students; confidants would become informers and zero trust could exist in that environment," Burke said. 
The bill has the potential to be invasive, giving teachers access to students' personal lives, Burke said.
"I have no desire to be forced into a position of interfering in students' private lives," she said, "Their journeys are their own, and it is none of my business how or when a child discusses something this major with a parent. As a teacher, I am not part of that equation, and I want to respect that boundary." 
House Bill 454 is only one in a slew of anti-trans legislation that continues to drive misinformation about gender-affirming care. It will violate the relationship between patients and their doctors by taking away the right to choose their medical care. It "goes against the recommended medical advice," from the American Academy of Pediatricians and the Endocrine Society, according to Equality Ohio.
It would also create dangerous living situations by putting transgender youth at risk of being outted is an unsafe environment. This bill will only serve to harm trans youth across the state. This means true allyship from cisgender people is necessary.
 "You need to defend and protect all of us, listen to all of us," Callahan said.
To stop this bill from being signed, everyone needs to get involved. Contact local state representatives encouraging them to vote no to House Bill 454 if it makes it to the house floor. These representatives can be found at the Ohio Legislature District Map. People can also call Ohio House Speaker Bob Cupp at 614-466-9624 to ask him to stop the bill entirely. A script was provided by Planned Parenthood Ohio:
"My name is [name] and I am calling to ask Speaker Cupp to STOP
H.B. 454, the SAFE Act, which would prevent minors in Ohio from
receiving the recommended medical care and further stigmatize
transgender and nonbinary youth."
Trans healthcare, like all health care, is a human right. House Bill 454 threatens to strip that right and many others away from trans youth. 
"Trans health care is on the same level of importance as any other health care," Callahan said, "And imagine if you needed the government's permission to get braces for your child's teeth. Wouldn't that be ridiculous?"