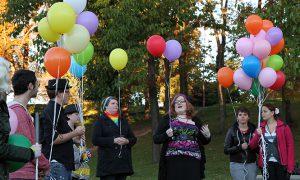 PRIDE! Kent spread a message of tolerance and forgiveness Friday evening with their vigil marking the 14thanniversary of Matthew Shepard's death.
The vigil, held at the Victory Bell, saw an attendance of 30 members of the LGBT and Ally communities there to honor Shepard's memory and discuss the mark his death left.
In 1998, a 21-year-old Shepard was tied to a fence before being tortured and subsequently murdered by two men for his sexuality.
During his killers' trial, the court favored the death penalty for the convicted men. However, the Shepard family pled with the judge to lessen the sentences to life in prison, setting the precedent with a message of forgiveness and mercy still echoed today.
"I think the most wonderful gift Matthew's family has given us is the ability to be merciful," Roxie Patton, program coordinator for the LGBTQ Center, said at the vigil. "We can't allow other people's ignorance to change who we are."
During the ceremony, the event-goers formed a circle in front of the bell to release balloons, commemorating those lost. Before the release, the crowd was able to speak on the effect Shepard's death had and the progress that still needs to be made to ensure no other members of the LGBT community are lost to suicide or murder because of their sexual identities.
Held to motivate and inspire the community, the Matthew Shepard vigil marked the last event PRIDE! Kent put on for National #Coming Out Week, preceded by a Coming Out Day celebration the night before.
"This is such an integral part of our community's past and we still have a long way to go in our search for #equality," said Tim Lewis, programming director for PRIDE! Kent. "We need to remember the past to celebrate the future."