In order to stay in the spirit of sharing food, the Fusion staff created our own recipes for you and your chosen family to enjoy together. From the Spring 2022 Print Issue
DIY Olive Garden Gnocchi Soup
From Natalia's Kitchen 
Ingredients 
Premade gnocchi 

Bone broth 

1 package chicken breast 

3-4 cups spinach 

1 stalk celery, chopped

Pre-shredded carrots or 2-3 carrots chopped 

Salt and pepper 

Illustration by Janine McDaniel
Recommended 
Parmesan cheese

Thyme

Rosemary
Optional 
1 egg

1 cup heavy whipping cream 

Turmeric 

Curry powder 

Lemon juice 
Supplies
2 pots

Baking sheet

Utensils 
Preheat the oven to 400°F. 

Season chicken with salt and pepper, as well as thyme, rosemary, turmeric and curry powder if you choose. 

Place chicken on a baking sheet and cook in the preheated oven for 20 minutes or until fully cooked. Remove from the oven and let cool. Squeeze lemon juice on chicken if you choose. 

In a pot, cook gnocchi according to package directions. 

While gnocchi is cooking, chop the vegetables. 

Add stock and chopped vegetables to another pot and bring to a boil. Once boiling, lower heat. 

If using egg, pour a small amount of hot broth into a bowl. Add the egg to the bowl and mix, then add the mixture to the main pot.

If using cream, add cream to the main pot. 

When gnocchi is fully cooked, add it to the main pot. 

Once chicken has cooled, shred and add to the main pot. 

Season with salt, pepper, rosemary, thyme, and Parmesan cheese to taste and enjoy! 
Makes 4 servings. For a vegetarian or vegan option, substitute vegetable stock for bone broth, tofu for chicken breast, and coconut cream for heavy whipping cream, and leave out the egg and Parmesan cheese.
Reine De Saba (Chocolate and Almond Cake) with Icing 
The Art of French Cooking by Julia Child 
Ingredients for cake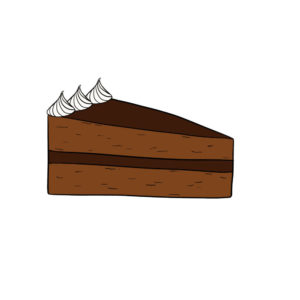 4 ounces semisweet chocolate, melted 

2 tablespoons rum or coffee 

1 stick of butter, softened

⅔ cup granulated sugar

3 egg yolks

3 egg whites

Pinch of salt

1 tablespoon granulated sugar

⅓ cup pulverized almonds 

¼ teaspoon almond extract 

¾ cup cake flour sifted 
Supplies for cake
8 inch round cake pan 

3 quart mixing bowl 

Separate mixing bowl

Wooden spoon

Electric mixer 

Rubber spatula

Cooling rack 
Preheat the oven to 350°F. 

Butter and flour the cake pan. Rub the entire surface with a thin film of softened butter, then roll flour around in the pan to cover the sides and bottom. Knock out excess flour by banging the pan, upside down, on a hard surface. A light dusting of flour should adhere all over the inner surface of the pan. 

Cream the butter and sugar together for several minutes until they form a pale yellow fluffy mixture. 

Beat in the egg yolks until well blended.

In a separate bowl, beat the egg whites and salt until soft peaks form. Add sugar and beat until stiff peaks are formed. 

With a rubber spatula, mix the melted chocolate into the butter and sugar mixture. Then stir in the almonds and almond extract. Immediately stir in one fourth of the beaten egg whites to lighten the batter. Fold in a third of the remaining whites and when partially blended, sift in one third of the flour and continue folding.

Alternate rapidly with more egg whites and more flour until all egg whites and flour are incorporated. 

Turn the batter into the cake pan, pushing the batter up to its rim with a rubber spatula. 

Bake for about 25 minutes until the cake has puffed and a toothpick or knife inserted into the side comes out clean.

Allow the cake to cool in the path for 10 minutes. Run a knife around the edge of the pan and reverse the cake onto the cooling rack. Cool thoroughly, for an hour or two, before icing.
Ingredients for icing 
1 ounce semi-sweet baking chocolate, melted

1 tablespoon rum or coffee

3 tablespoons unsalted butter

Cold water
Supplies for icing 
Wooden spoon 

Small bowl 

Larger bowl

Small, flexible spatula or table knife 
Stir chocolate and rum or coffee together in a small bowl until they form a smooth cream. 

Beat the butter into the chocolate a tablespoon at a time.

Fill the larger bowl with cold water. Beat chocolate and butter mixture over the cold water until the chocolate mixture is cool and of spreading consistency. 

Spread over cake with spatula or knife immediately. 
Spice up your box cake!
If you don't have time to bake a whole cake, here are easy ways to spice up a box cake and icing.
Add a tablespoon of matcha, ground coffee, or any flavor of your choice to the mix. 

Blend or smash a berry of your choice and incorporate it into icing.

Make an easy glaze with berries, a cup of powdered sugar, and 2 tablespoons of milk. 
Creamy Lemonade with Optional Flavors 
From Natalia's Kitchen 
Ingredients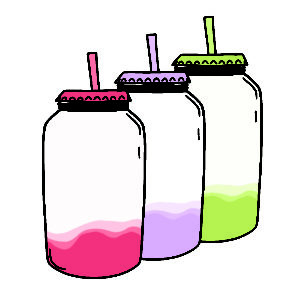 ½ cup of simple lemon syrup or juice 

Ice 

½ cup vanilla coffee creamer or heavy whipping cream 

Tea or water 
Optional 
Lavender syrup

Butterfly pea powder

Matcha powder

Raspberry syrup 
Mix tea or water with optional flavors. 

Pour lemon syrup, tea or water mix, creamer or cream, and ice into a blender. 

Blend until smooth.