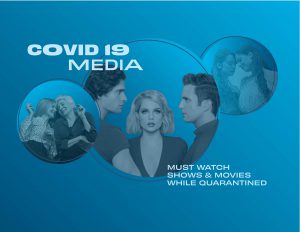 Queer #media representation is important for people of the #LGBTQ+ community to relate to others who have gone through similar experiences and to be able to identify with another person.
Suzanne Holt, the director of women's studies at #Kent State, discusses the importance of finding others that share the same interests and common purposes in media. Holt says everyone has the need to want to be represented. As the social media presence around us grows, the more it affects our lives.
People look to find others that are relatable and oftentimes that is found in actors, celebrities, influencers and much more. LGBTQ+ media representation can help people of the community find others who share the same experiences.
"If we can sit with someone's sustained performance," Holt says, "it invites you to listen to another … telling you their story."
These pieces of media offer unique ways of presenting the LGBTQ+ community, giving different insights on the lives and perspectives of their characters.
"Hannah Gadbsy: Nanette"
In Holt's feminist humor studies course, she shows her students this show, which presents Hannah Gadsby's life as an LGBTQ+ woman in comedy. The show reveals women's perspectives in the world and the deep emotions in Gadsby's life.
"To me, it is a singular example of an almost brilliant intersection of femisnism and a queer sensibilty," Holt says. "She embodies that intersection."
"Elisa and Marcela"
This Spanish biographical romantic drama, available on Netflix, features two women, Elisa Sanchez Loriga and Marcela Gracia, who passed as a heterosexual couple in order to get married. They were the first to have a same-sex marriage in Spain in 1901.
"While the film does have some stylistic and pacing faults, Elisa y Marcela is an emotional drama that sends an important message of hope to minority groups," writes Stephanie Watts for One Room With a View.
"Last Ferry"
An award winner in the North Carolina Gay and Lesbian Film Festival of 2019, this film is centered around Joseph, a young lawyer from Manhattan. He travels to Fire Island in hopes of having a fun time and meeting other men. However, he ends up meeting a stranger who drugs and robs him and commits a murder in front of Joseph's eyes.
"The end product isn't perfection, but this gay lawyer's journey to Fire Island to escape monotony and find luxury is rescued by its cast and cinematic style," writes Andrew Stover for Film Inquiry.
"The Politician"
In this Netflix original, "The Politician," Payton Hobart, played by Ben Platt, is running for student body president at his high school in Santa Barbara, California. Payton's goals are to become president of the United States in the future and survive the tribulations of being gay in high school.
"Highly watchable, as Payton's campaign repeatedly surmounts seemingly insurmountable problems, and, when bits of real feeling make it through all the acid humor, even touching," writes Boston Globe media critic Matthew Gilbert.
"A Year Without A Name: A Memoir"
In their book "A Year Without A Name: A Memoir," Cyrus Grace Dunham shares their experience being lost in their own body and discovering their true identity. Switching between the perspectives of Cyrus and Grace, readers are brought into their world with challenges of transitioning and everyday life. This novel presents raw emotions in a coming-of-age story.
"This one's much better read as an account of generational and intellectual good fortune," writes Stephanie Burt for The Atlantic. "Dunham can build on terms they have inherited from earlier trans people and can also talk and write about the vicissitudes of erotic desire, about how desire affects what gender means."
"Chilling Adventures of Sabrina"
In a remastered version of "Sabrina the Teenage Witch," teenager Sabrina Spellman discovers her newfound powers as being half-human and half-witch in Netflix's "Chilling Adventures of Sabrina." Alongside her are her friends in both worlds, battling demons, surviving high school and discovering their sexualities. Lachlan Watson, one of the youngest non-binary actors in the industry at the time, plays Theo, a transgender character on the show. Spellman's cousin, Ambrose, identifies as pansexual.
"The Chilling Adventures of Sabrina is sure to fill the retro-spooky hole left in your heart by the lack of Stranger Things this year — and does Riverdale a few shades better," writes Alicia Lutes for IGN.
"Tales of the City"
"Tales of the City" introduces Mary Ann Singleton, who moves back home to San Francisco after leaving for a broadcasting job. She is reunited with friends who struggle to understand their sexualities and difficult pasts.
The Netflix series is based on Armistead Maupin's book series.
"Nevertheless, even in this world where the once solo-existing chronicle of queer life now jostles for space alongside everything from Pose to Queer Eye, we need Tales of the City as much, if not more, than ever," writes Chitra Ramaswamy for The Guardian.