This past weekend, Rainbow Weekend was back in Downtown Kent. The event was hosted by Mainstreet Kent and included fun events including art shows, music, entertainment, education, storytelling and more in support of the LGBTQ+ community. It was presented by Absolut and sponsored by The Portager, PFLAG, College Town Kent, Hall-Green Agency and Auto-Owners Insurance.
This event is important to continue to build Kent's strong sense of community. "We're thrilled to bring Rainbow Weekend back to Kent, and we couldn't do it without our amazing partners and committee members," shared Main Street Kent executive director Heather Malarcik, "Kent is a great, welcoming and inclusive community and we want to showcase that."
On Friday, the Kent State LGBTQ+ Center hosted their annual Rainbow Run. Proceeds will benefit the center's emergency fund, which assists students in crisis. Main Street Kent also hosted the Rainbow Weekend Bar Crawl, sponsored by Absolut. The evening lineup included the band Van Sailin' at Water Street Tavern, a variety of live music at Zephyr Pub, DJ Jeff Tritt at 157 Lounge and the Rocky Horror Picture Show at The Kent Stage.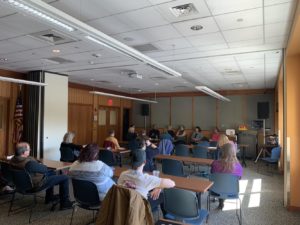 On Saturday, there were events all over downtown for entertainment, education, and arts and activities. Part of the educational event were the three sessions hosted by Mainstreet Kent at the Kent Free Library. The first was Safe Space Ally Training hosted by Ken Ditlevson, the director of Kent State's LGBTQ+ Center. This was followed by two speaker panels, "How Faith Leaders Create LGBTQ+ Affirming Spaces" and "Parents: Pitfalls and Proud Moments, a PFLAG Panel." The sessions were free, and donations were encouraged in support of the Kent State LGBTQ+ Center emergency fund. 
Fusion was able to be a part of the three sessions to show support. The other organization tabling at the sessions was Margie's Hope, which "aims to support and empower trans and nonbinary, and gender nonconfroming people in northeast Ohio." They run programs in both Cleveland and Akron that include peer support groups for trans people and their loved ones, food pantries, a resale shop, clothing pop-ups and social opportunities. For more information or to get involved you can visit their website here or email them at [email protected]
Following the panel sessions, Fusion also visited the Spread the Love interactive art exhibit held outside Kent State's Franklin Hall before the documentary Mama Bears, which was featured inside. The exhibit allowed visitors to share messages of love and support on little notes and post them to the large rainbow.
Saturday saw more events throughout Kent. There were free crafts and activities available for children at the Kent Free Library, Red Letter Days and Popped!. Acorn Alley featured a DJ, drag queens and tarot readings. Other businesses like Bent Tree Coffee, Kent Natural Foods Co-op, Kent Sportswear and more had rainbow specials for the weekend.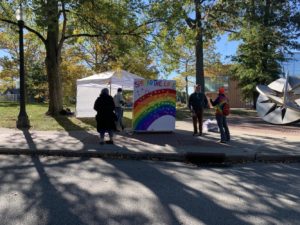 In the evening, "Courageously Queer: Identity" a storytelling event took place at North Water Brewing followed by live music with Diana Chittester. There was live entertainment at Water Street Tavern who hosted the Ladies Night Band, at Bell Tower Brewing who had the Moop Troop Comedy Show, and at Zephyr Pub that hosted a drag show. 
The weekend was packed full of fun and educational events that families and friends all attended. It proudly showcased Downtown Kent's pride and support for the LGBTQ+ Community.