Experiences of Queer Educators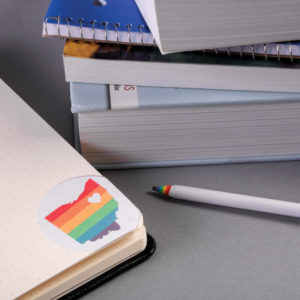 K-12 schools are often hostile places for queer students. According to a 2019 GLSEN survey, 98% of students have heard "gay" used in a negative way at school, 95% of students have heard queerphobic slurs at school, and 77% avoid school functions out of safety concerns. Overall, 59% of queer students simply do not feel safe at school.
While these numbers are bleak, there is one factor in schools that greatly improves queer students' feelings of safety: the presence of queer educators. GLSEN — an American education organization working to end discrimination based on sexual orientation and gender identity — reports that students who could identify queer educators at their school were not only less likely to feel unsafe at school, but were also less likely to skip school due to lack of safety, had higher GPAs, felt more optimistic about their futures, and felt a greater sense of belonging at school.  
Unfortunately, queer educators are not uniformly supported, facing challenges from parents, administrators, and even state legislatures. The situation changes depending on the educator's state, district, and even individual classroom, making careers in education difficult to navigate. 
"It's a little bit tricky," says Alex Fryberger, a Kent State University graduate and high school math teacher at Elyria City School District. "It's kind of like a game because I want to be openly out and queer for the students who need it and who need to see that there's a queer educator and that there's, like, you know, a queer adult in their lives, but then there's a lot of people who come from houses where that's not okay so they've ingrained the idea that it's not okay." 
They approach disclosure with the attitude of "the students who need to know, know, and the ones who don't, don't." They don't share their pronouns in group settings, but do with students who individually ask, and hint at their identity with a pride flag hanging in their classroom. She also serves as one of the advisors of the school's Gender-Sexuality Alliance and does not use an honorific. Instead of Mr., Mrs. or Mx., students simply call them "Fryberger." 
They are glad to teach in a district where the administration is aware and supportive of their queerness, which was a major factor in their decision to teach at Elyria rather than at a school like where they student taught in Stark county.  "I'm queer, disabled and Jewish. The school district that I was at, I had to hide so many aspects of my personality to not be up in arms with the parents of a lot of the students and the district itself," she says. "The fact that [Elyria] saw all those things about me and welcomed them…I was like, 'this is the place where I want to be.'"
LGBTQ people are technically protected from discrimination in the workplace through Bostock v. Clayton County; according to NBC, the Supreme Court ruled in June 2020 that federal law prohibits discrimination on the basis of sexual orientation or gender identity in the workplace. 
Historically, queer teachers have not had such protections. Losing their jobs if their queerness was discovered was a significant threat, and there were also a handful of bills specifically targeting queer teachers. For example, according to San Francisco's GLBT Historical Society, in 1978, California State Senator John Briggs put forth Proposition 6, a ballot initiative that would have banned queer people and allies from teaching in public schools if it passed. The bill failed, but only due to the fervent campaigning of the queer community, including Harvey Milk, a member of the San Francisco Board of Supervisors and prominent activist. 
Though legal protections have improved, GLSEN surveys conducted in 2007 and 2011 found that 1/3 of queer educators felt that their jobs would be at risk if they were out to administrations, half felt the same risk associated with being out to students, and 1/4 had experienced harassment at work. Queerphobic intent in firings is hard to prove, leaving many educators to be unjustly fired but with no legal recourse, and some educators lack the financial resources to pursue legal action. Additionally, the strain of consistent harassment or microaggressions can also drive educators away from their profession, which is not officially covered in legal protections. 
Fryberger has experienced some microaggressions at work, such as students refusing to refer to them without an honorific. They also still censor their queerness around parents, introducing themself as "Miss Fryberger" to avoid potential danger in places like parent-teacher conferences, when the power dynamic is not in their favor. However, despite the occasional difficulties, openness has also allowed Fryberger to build stronger relationships with her students. They were even the first adult that one particular student told about their queer identity. 
"A lot of them have just been so alienated and this became a safe space for them to see, 'oh, a really cool teacher is openly queer,'" they say. "It's just such a powerful moment and something I never got to experience, especially going to a Catholic school."
Jaxon Farmer, a junior at Howland High School, has been able to experience those moments thanks to a close relationship with a queer English teacher at his high school who is also his speech and debate coach. He describes that knowing this teacher "has been fundamental in my intimacy with my queerness." 
"I used to feel more comfortable identifying as a person who is queer, as if it is a condition," Farmer said. "But within the past few years, I feel like the people around me, of which my teacher comprised a large part, have allowed me to feel more intimate with my identity." 
This relationship has also helped him navigate the erasure of queerness perpetuated by other teachers. He recalls one conversation about "the AIDS epidemic, the lack of response from the Reagan administration, and its absence in current conversations. I presumed that the magnitude of the epidemic warranted class time. My teacher informed me that I would never get that class time."
Farmer has also noticed that like Fryberger, his teacher seems to be balancing safety with openness. He observes, "Though it is common knowledge he is married to a man, he almost never genders his spouse, unless we are speaking privately. I wonder if there is an underlying fear that queerness negates professionalism or respectability? Or
maybe this is a defense tactic to avoid wrath from homophobic parents?" Regardless, he feels grateful for the relationship: "He has been one of the few adult figures who I can talk to about queerness who 'get it.' Conversations with him are so refreshing."
Becoming an adult figure who "gets it" can also be easier with preparation. Bailey McKarns, an integrated language arts education major with a minor in mild to moderate special education at Kent State University, aims to work either in special education or as an English teacher. She feels that Kent State has prepared her well to navigate a career as an openly queer educator.
"One of my first education professors was a lesbian and one of the first few days, we found that out," McKarns says. "To be taught by Dr. [Debra] Clark was amazing because she was just so honest and real and told us, 'it's probably going to be hard but it's worth it because you know you're going to help those students who are LGBTQ, which has driven me miles. She made me feel comfortable to be LGBTQ even when I was really, really not out, which is really important."
This experience has helped McKarns in her work as the president of the Kent Student Education Association, as well as her current position as a student teacher. 
"It can be hard to be different, especially in a crowd that is not used to any diversity whatsoever, but it's good to introduce it anyways," McKarns says." "So in my own confidence, I have been able to address LGBTQ topics in an appropriate way that will not get me fired, especially with students who have come out to me … I feel way more prepared to connect with them in a professional way."