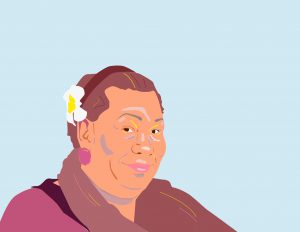 Lorena Borjas, a Mexican-American immigrant who advocated for transgender rights in New York City, died March 30 from COVID-19, New York State Assemblywoman Catalina Cruz confirmed. She was 60 years old.
Borjas was a pioneer in advocacy for many minority groups, often referred to as the mother of the transgender Latinx community.
"We lost a champion, a hero, someone who fought like hell for her community," transgender activist Janet Mock wrote in a tweet. "Rest in power Lorena Borjas."
According to Queens Public Television, Borjas moved to the United States at the age of 21. She worked as an educator at community health centers, advocated for transgender and immigrant communities and ran programs testing transgender sex workers for HIV. She also provided safe syringe exchanges for transgender women taking hormone injections and found safe housing for women escaping sex trafficking. At the time of her death, her financial support resource for transgender women in need, the Lorena Borjas Community Fund (LBCF), was also raising money for transgender individuals who are affected by COVID-19.
Many older #LGBTQ+ individuals are at particular risk for the virus, due to age, health disparities and social isolation, the Human Rights Campaign Foundation and Advocates and Services for LGBT Elders (SAGE) report. In addition to the LBCF, SAGE has produced a list of resources to support older LGBTQ+ people during this challenging time.
Meanwhile, transgender people who were impacted by Borjas and her work have been paying tribute to the greatly-admired activist.
Chase Strangio, the deputy director for Transgender Justice at the American Civil Liberties Union, worked closely with Borjas.
"She was relentless and brilliant," he told Vice. "I learned more about the law and systems of legal injustice from her than from anyone or any institution."
New York City Councilman Francisco Moya of the 21st Congressional District plans to rename a street in his district after Borjas "in honor of her leadership and activism," he wrote in a Tweet.
To learn more about Borjas' life and work, check out this Emmy-nominated video profile from 2019.