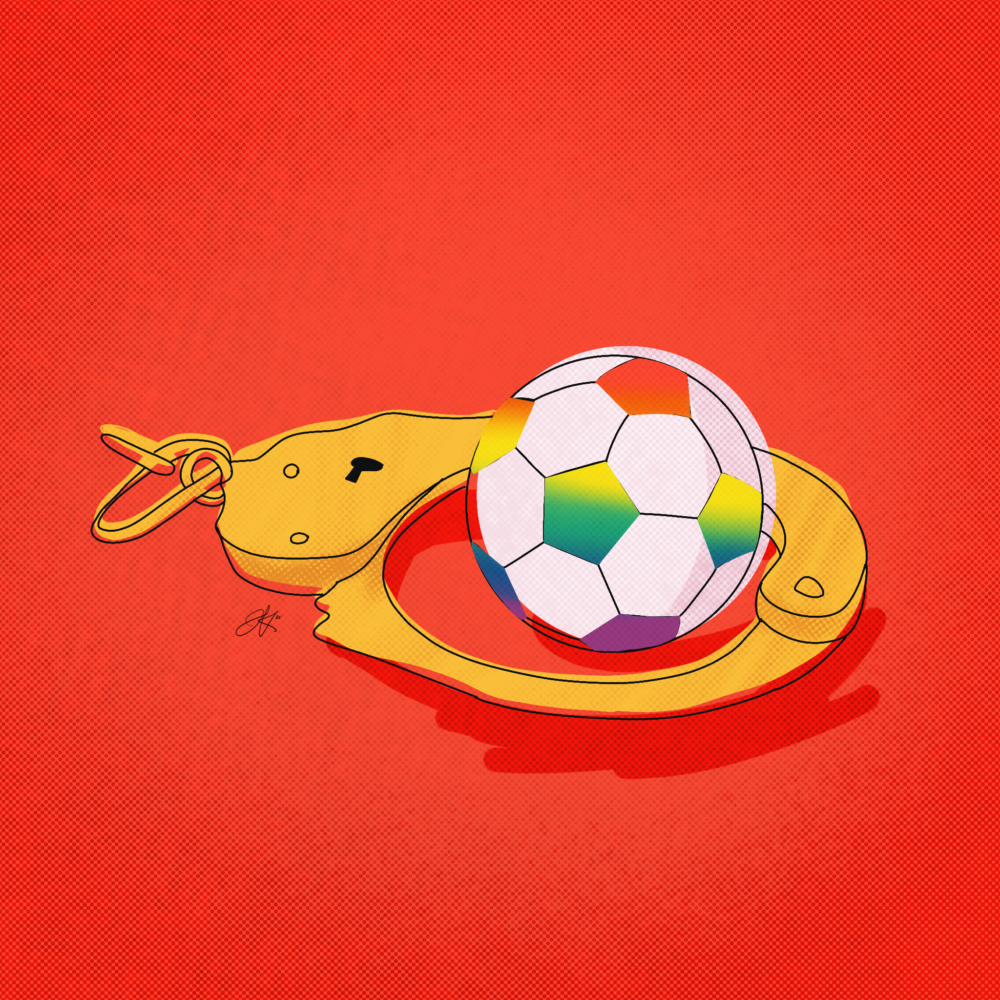 The FIFA World Cup, an international soccer tournament held every four years, is called "the most prestigious tournament in the world," by the organization and had its first match on Sunday. The tournament sees thirty-two nations playing for the final prize. It expects to see more than one million fans in attendance in the host country of Qatar. FIFA says, "it brings fans together around the passion and love for the game," but what does this mean for fans that find themselves in an unsafe country for the event? 
The World Cup is being held in Qatar, a country that criminalizes same-sex relations. The country won the bid back in 2010 and is the first country from the Middle East to host the event. Even a decade ago, there were allegations of bribery and corruption on the behalf of Qatar to secure the selection. These claims followed a case that convicted multiple officials and executives of FIFA for corruption. In April 2020, prosecutors from the U.S. "revealed details about money paid to five members of FIFA's top board ahead of the 2010 vote to choose Russia and Qatar as hosts," according to the New York Times.
In response to this, FIFA changed their selection process. Instead of twenty-four executive members making the choice, it will be put to a 211 member vote. This did not alter the decision for Qatar to host. The Washington Post reported on other concerns that arose over the choice of Qatar to host. The country's high heats resulted in a shift to a November to December schedule. The small size and regional political issues were also points for contention, but one of the largest concerns is the country's criminalization of homosexuality.
AP News reported that some skeptics believe Qatar's World Cup to be a case of "sportswashing," which is using sport to better the country's reputation and public image. Some feel the country is trying to hide its past history of human-rights violations. 
Qatar criminalizes same-sex activity between men and between women. It is prohibited under Penal Code 2004, criminalizing acts of 'sodomy' and 'sexual intercourse' between people of the same sex. It can carry a maximum penalty of up to seven years imprisonment. 
In recent years, there is little evidence of enforcement and also limited views to the extent of the discrimination and violence faced by LGBQT+ individuals, as reported by the Human Diginity Trust. The small number of reports could be due to the fear LGBTQ+ people harbor and their inability to be open with their sexuality.
Although few in number, there are reports made. In 2020 The U.S. Department of State reported on human rights practices in Qatar. This report included "significant human rights issues" that included "criminalization of consesual same-sex sexual conduct." The report did not find any public reports of LGBTQ+ violence, likely due to people hidding their sexual orientation and gender identity. It also found there was no "efforts to address potential discrimination" by the government, or any "antidiscrimination laws to protect LGBTI individuals."
Since 2019, the Human Rights Watch have documented multiple cases of violence and sexual harassment at the hands of police in Qatar. Their Preventive Secuirty Department have "arbitrarily arrested lesbian, gay, bisexual, and transgender people and subjected them to ill-treatment in detention." People have been arrested in public spaces based solely on physical appearance.
What does all of this mean for queer fans attending the World Cup and the athletes competing? It brings to question what the response will be once the out LGBTQ+ individuals arrive. 
Many activists are weary of what may happen and take issue with such an important and popular event being hosted in a country not accepting of the LGBTQ+ community where many are not safe. A FIFA representative told NBC News that the organization is "confident that all necessary measures will be in place for LGBTIQ+ fans and allies to enjoy the tournament in a welcoming and safe environment, just as for everyone else." Officials from Qatar's government also told them that fans are able to express themselves freely but are expected to "respect the local values and culture." 
It is advised for anyone traveling to the event to be careful of how they present themselves in unofficial spaces, outside the tournament zones. This includes being careful in clothing choices, certain phone apps downloaded, and public relationships. 
Despite this, there has already been action taken by athletes in response.The men's team from Australia posted a video calling on Qatar to decriminalize same-sex relations. Eight different European teams have added armbands to their uniforms, in violation of FIFA standards, that read "1 Love" decorated with rainbows. The team from the U.S. has added a rainbow logo to their training facility in Qatar to show support for the LGBTQ+ community.