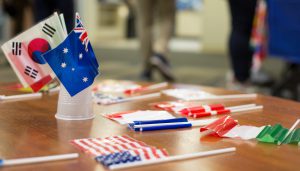 Domestic and international students mingled over regional appetizers and conversational activities at TRIO's 2nd Annual Cultural Food Exchange on Thursday.
The event, which is part of a series of events called TRIO Week, gave students an opportunity to learn about other cultures and traditions.
Cason Brunt, the director of Student Support Services and Academic Diversity Outreach, told the crowd that this event was created because of feedback from students.
"Domestic students don't get to immerse themselves in foreign #culture," he said, adding that he hoped people would exchange information and continue talking after the event ended.
Students from Brazil, Puerto Rico, Oman and Greece took turns at the microphone to explain their individual countries and cultures.
Brazilian student Marselle Piccinin also told the crowd about the Conversation Partners program, which allows foreign students to improve their English speaking skills and connect with domestic students.
After the speakers finished, attendees sampled Indian samosas, Puerto Rican tostones and Brazilian coxinhas.
They also played games such as "Get to Know You" bingo and "Pack Your Bags", in which players pulled pieces of paper from a bucket to see what two things they would be able to "pack" on vacation, and then tried to bargain to get better items.
TRIO Week will conclude on Saturday with the National TRIO Day of Service, which will benefit several #local organizations and charities.