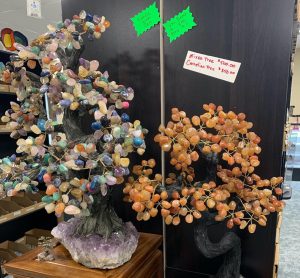 helves, cases and tables of brightly-colored rocks and the sound of soft flute music fill the inside of Momma's Rocks. 
Married co-owners Melanie Hawkins and Chris Daniel run Momma's Rocks in the Merriman Valley in Akron. Shoppers can find items such as single rocks and fossils, stone jewelry, metaphysical and Himalayan salt items and healing kits. People can also mine for gems from a wooden sluice off to the side of the store.
The Google-reviewed five-star store was named after Hawkins' mother, whom they called Mom. Mom was their inspiration for opening the store and always told them to follow their hearts and dreams. Mom died before they could open the store, so it was named in her honor.
Hawkins and Daniel found their passion for rocks by accident. The two were helping their friend, who was a major wholesaler of rocks and gems, when they fell in love with rocks. Hawkins started making jewelry, and the couple started attending flea markets and trade shows. That lasted for six years until they opened their own store.
They started in a 900-square-foot space, and within a year had to move to their current location, which is five times bigger, due to their success.
"It is our life. It is our passion," Hawkins says. "I love sharing, educating and helping people."
They also aim to promote natural healing and peace. They have many regular customers, and they have many customers from #Kent State, Hawkins and Daniel say. Customers compliment Momma's Rocks on the energy in the store and the quality and cost of products, they say.
"Customers are just like us. They do not want to buy online," Hawkins says. "They want to feel it, hold it and take it all in before they purchase, and with a place like us, they are able to do that."
Ninety-five percent of Momma's Rocks' inventory is hand-chosen by Hawkins and Daniel. Each year, they travel to two of the biggest buying shows in the country, in Tucson and Denver, where they buy rocks from all over the world.
"Vendors are from every country, every entity within a country," Daniel says. "Certain stones only come from the Dominican Republic, Israel, Australia and Iceland. They are all there."
The couple travels to a few small shows on the East Coast as well when filling in inventory throughout the year. They hope to hire employees in the future, so they can travel to more rock shows.
Other than their love for rocks, Hawkins and Daniel are passionate about donating to and helping the community. They have donated to organizations such as schools in the community and Pride.
Many people at Pride parades are interested in rocks and crystals, Hawkins says. Momma's Rocks also carries a line of Pride items, such as clothing, jewelry and art.
Hawkins and Daniel identify as lesbians within the #LGBTQ+ community.
"We and our business support our local LGBTQ community as well as many other LGBTQ communities throughout Ohio and neighboring states," Hawkins wrote in an email.
They have a phenomenal selection of stones and crystals for fair, reasonable prices, says Rachel Polak, a customer at Momma's Rocks. Each morning, she meditates with a lepidolite sphere she purchased from Momma's Rocks. It is her favorite stone to help start her mornings in a calm way, she says.
"Being a woman and a part of the LGBTQ+ community myself, I have wanted to support their business and also because it is comfortable, welcoming and inviting," Polak wrote in a message. "Melanie and Chris have always made me, my wife and daughter feel like family."
Momma's Rocks has products suitable for people of varying experience levels with rocks. Customers drive from Pennsylvania, Toledo and Columbus to check out Momma's Rocks inventory, Hawkins says.
"We have a lot of good energy in the store," Hawkins says. "We take care of anybody and everybody."
Momma's Rocks plans to remain open during the COVID-19 pandemic, with adjusted hours. It is open 11 a.m. to 5 p.m. Tuesday through Saturday. It is closed Sundays and Mondays.